Coconut Snowball Truffle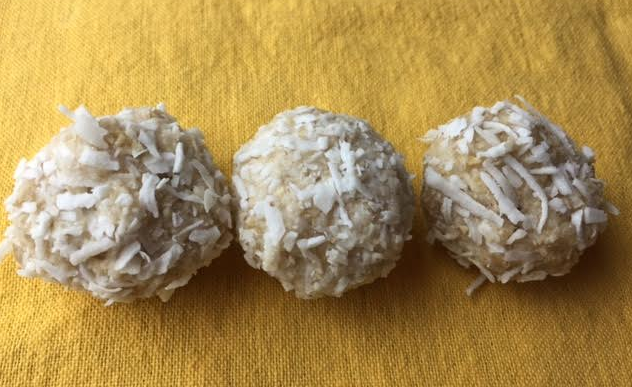 During the holidays they are called Snowball Coconut Truffles, but you'll soon find out you will ache for them all year 'round. Make your Coconut Truffles and take them to the pool, serve them up with strawberries and blue berries on Independence Day, nix the eggs and put these in your Easter basket, you get the idea!
These addicting little 3-4 bite wonders are raw, gluten free, vegan and oh... NO-BAKE, BABY!
Ingredients
Setup
   2 cups + 1/4 cup unsweetened shredded coconut+ 1/2 cup for rolling
   1/2 cup rolled oats
   1/4 cup coconut oil (softened)
   3 1/2 tablespoons maple syrup
   3 tablespoons coconut milk
   1 teaspoon vanilla extract (alcohol free)
   1/2 teaspoon sea salt
Directions
Place 2 cups of the coconut shreds, oats and the oil in a food processor and let it run for about a minute. Scrape down the sides and continue for another 10 seconds or so. You want the mixture to be well integrated.

Add in the maple syrup, coconut milk, vanilla and sea salt. Allow it to keep running for about 30 seconds, scraping down the sides as you need to. Add 1/4 cup of the coconut and pulse until mixed in (about 3-4 times).

Pour the mixture on to a large plate or shallow bowl and chill in refrigerator for 20-30 minutes.

Pour some of the remaining coconut shreds on to a plate for rolling.

Scoop up about an 1" of the mixture and roll in your hands.

Carefully slide snowball on to skewer.

Makes 12 truffles
Video
How did this recipe work out?
Leave a Reply