Double Chocolate Nice Cream (and other flavors, too!)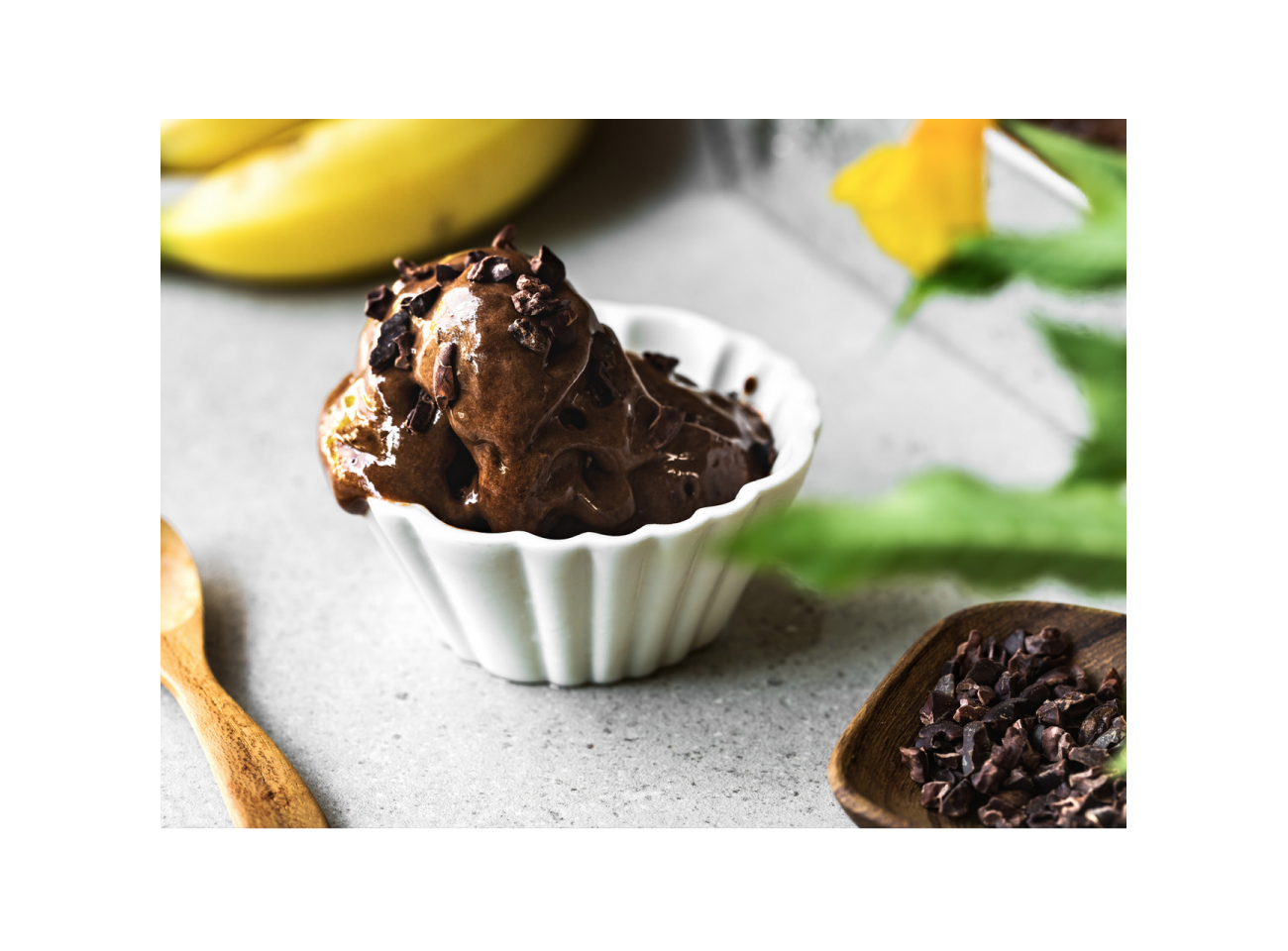 If there were ever a season for Nice Cream, this is it! We are on the cusp of summer, trying to shed some lbs, but not willing for a second to ignore our sweet tooth! Done!
Ingredients
Setup
2 overripe banana
2 tablespoons cacao powder
2 teaspoons date paste (or 1 date, softened in warm water, pit removed)
1/2 teaspoon vanilla extract or powder
1 1/2 tablespoons cacao nibs (or dairy-free dark chocolate chips, chopped small)
1/2 pinch salt
Directions
Peel and cut bananas to about 1/2" rounds and place on a parchment lined baking sheet. Freeze overnight. Pop the bananas into a high speed blender or a food processor and blend until smooth.
No high-speed machine? No problem. Simply allow the bananas to defrost about 5 minutes, until barely soft and begin to whirl. In a both a blender and a food processor, you will be scraping down the sides a little, until you have a smooth consistency.+++NOTE: If you are adding a whole date, rather than date paste or other liquid sweetener, add the date here. +++
Add in the cocoa, date paste, vanilla and salt. Continue to blend/process.
Transfer the Nice Cream to a loaf pan, sprinkle the coca nibs/chocolate chips on top and allow to freeze for a few hours. Using an ice cream scooper, scoop to a bowl or cone and enjoy!
Serves 2
Using a base of 2 bananas and date paste (or one softened date) here are some other delicious flavors:
Chocolate Peanut Butter:2 tablespoons cocoa powder, 1 1/2 tablespoon natural peanut butter + 1/2 teaspoon vanilla extract
Cherry Vanilla: 1 cup frozen cherries +  1 teaspoon vanilla powder (or 2 teaspoons of extract). Add the cherries in during the initial mixing of the bananas.
Pistachio Maple Peach Vanilla: 1 cup frozen peaches + 1 teaspoon pistachio extract + 1 tablespoon maple syrup (skip the date paste / date). Sprinkle 1 1/2 tablespoons crushed pistachios on top before freezing.
You can see how the options are endless. I hope you'll create your own! A couple of tips-->
1. Even though the bananas are quite ripe and very sweet, adding the dates or liquid sweetener will help the banana not crystalize in the freezer.
2. Adding vanilla really does help with the depth of flavor and I encourage you to keep vanilla extract, powder or beans (scrape out the inside) around for this treat!
3. If you have overripe bananas, but don't have the time to freeze beforehand, you can blend/process at room temperature and then freeze. I get a better end product blending while frozen and then freezing, but in a pinch and to satisfy that sweet tooth, skipping the initial freeze is not a bad option.
4. Want to hurry up Mother Nature and get those bananas nice and spotted brown (overripe) in a pinch? Throw them in a paper bag with an apple and in a day or two you'll have soft and sweet bananas.
______
Some things happening at the Center for Plant-based Living:
1. Check out our latest classes: https://www.cpbl-stl.com/classes
2. To purchase some of the kitchen tools I use https://tinyurl.com/yyacj2cg
3. To subscribe to the weekly Plant-based Quick Cooking Show: https://www.youtube.com/channel/UCExWwoBh6fvdOgghkjh0U1A?
COMING SOON – Virtual Membership.
Thank you for your continued support!
How did this recipe work out?
Leave a Reply