Frozen Berry Chocolate Skewer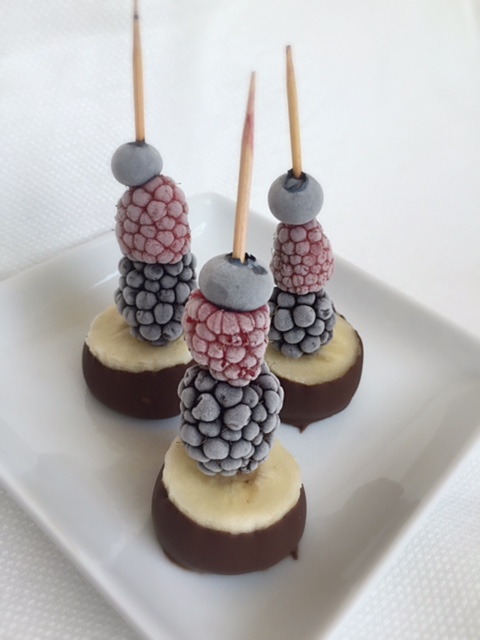 The darker the berry, the greater the antioxidant punch! Time and time again, research has shown us that this is true, so let's use this summer when fruit is fresh and plentiful and indulge. Get in to the habit of adding more fruit into your day and you might not be so susceptible to the cold and flues that pop us when fall and winter roll around.
Ingredients
Setup
Blueberries, gently washed
Raspberries, gently washed
Blackberries, gently washed
Bananas, cut into 3/4" slices
Short skewers
Dairy free chocolate chips, melted
Directions
Line a flat tray or plate with parchment paper or wax paper. Stick one end of the skewer into a banana slice and thread on the remaining berries. I did largest to smallest berry to give it a tower effect, but you can order them however you like.
Place the berry skewers on to the paper lined tray and freeze for a couple of hours to over night. Using a double boiler*, slowly melt the chocolate until it is smooth. When the fruit is frozen, dip the skewer into the melted chocolate so that it covers only the sides of the banana and place back on the freezing pan. Place in the refrigerator or freezer for a few minutes to allow the chocolate to harden.
*If you don't have a double boiler, simply fill a small sauce pan with a few inches of water and place a glass bowl on top so that it is sitting on the rim. Be careful to not allow the water beneath touch the bowl. Pour the chocolate chips into the bowl and turn the heat to low. Stir often until melted.
How did this recipe work out?
Leave a Reply