Garlic Hummus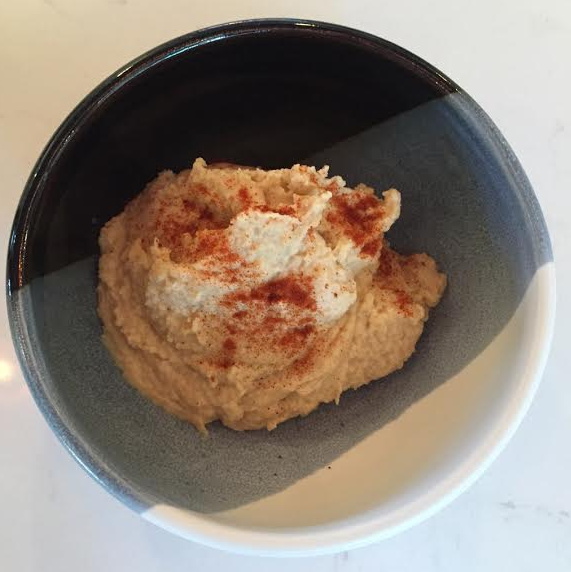 My best friend introduced me to hummus nearly 25 years ago when many of us were still saying, "hum... what?"  Yeah, she was ahead of her time here in the middle of the country and little did she (or I!) know what that little introduction would spark.  Fast forward to 2008 when I adopted my plant based diet and this was the first thing I created.  Think of it as a clean slate hummus, maybe it's hummus 101 - in any case, it's the most basic of basic hummi (read: plural) and the beauty of this is you add any ingredient at the very end to change it up. It's thick, its delicious and now it's yours.
Here are some ideas for you:
greens such as: spinach, kale, chard
fresh basil
dill
sun dried tomatoes
roasted red peppers
kalamata olives
nutritional yeast
Trader Joes 21 Salute Seasoning
Ingredients
Setup
2 - 14 oz. cans no sodium added garbanzo beans
2 cloves of garlic
2 tablespoons salt and oil free tahini paste
pinch of sea salt to taste
Juice of ½ lemon
1/2 teaspoon paprika (optional)
Directions
Blend all ingredients in a blender until a smooth, thick consistency is reached. Top with paprika.Keeps well in an air tight glass container in the refrigerator for five days.
Serves 6
How did this recipe work out?
Leave a Reply