Jackfruit Tuna Salad Sandwich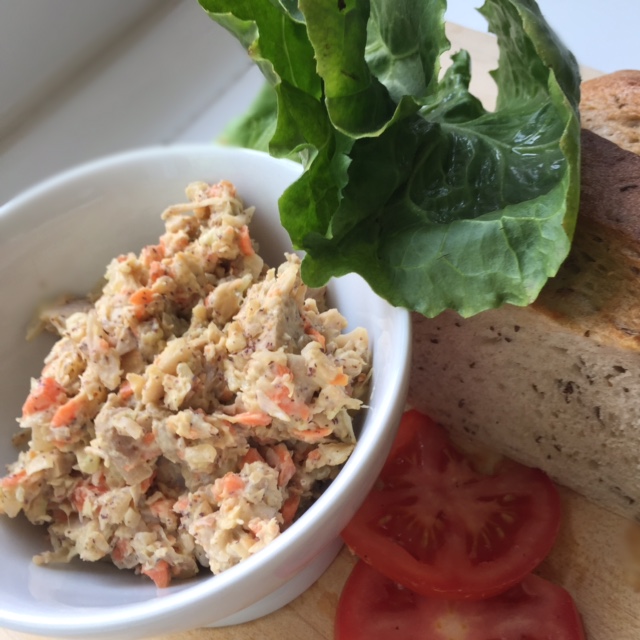 Believed to be indigenous to the rain forests of India, this low calorie and highly nutritious fruit easily subs in for many shredded meats as it soaks up the flavors it is marinated in or mixed with.
Ingredients
Setup
1 can of young jackfruit in brine
1/4 C white onion, minced small
1 clove of garlic, minced
1 stalk of celery, cut into 3-4 peices
1 carrot, cut into 3-4 pieces
1 TBS raw sunflower seeds
1 C cannellini (white) beans
1 TBS dulse or kelp flakes ( or any dried seaweed you can find, more to taste as needed)
1 TBS juice from a lemon
1 TBS sweet pickle relish
2 tsp dijon mustard
2 TBS vegan mayo
Directions
Open the can of jackfruit and toss in to a colander.
Add two TBS of water to a hot skillet and begin to saute the onion. Add the jackfruit to a food processor and pulse until it is broken up into many small pieces.  When the onion becomes translucent (about 4-5 minutes), add in the garlic and continue to cook for 30 seconds.
Transfer the jackfruit to the skillet and allow it to cook until the water is evaporated and it begins to dry out.  Resist the urge to add more water, you want it to dry out, but keep it moving so you don't let it stick and burn to the bottom of the pan.
As the jackfriut is cooking, add the celery, carrots, cannellini beans and sunflower seeds to the food processor.  Pulse until ingredients are nearly minced (a few big chunks is fine). Transfer this mixture to a large mixing bowl. The jackfruit might be done and if so, place that in this bowl as well. Add in the dulse or kelp flakes and begin to stir with a spatula or wooden spoon (it may be too hot to touch for a few minutes.) Next add in the lemon, pickle relish, dijon and finally the mayo.
Taste and adjust as needed, remember flavors will develop as it chills. Chill in refrigerator for 2 hours.
Stack on crusty bread and garnish with tomato and greens or roll up in a lettuce leaf.
Makes 3 cups
Serves 6
Total time: 20 minutes
How did this recipe work out?
Leave a Reply