Mushroom and Spinach Phyllo Pockets with Tahini Dill Sauce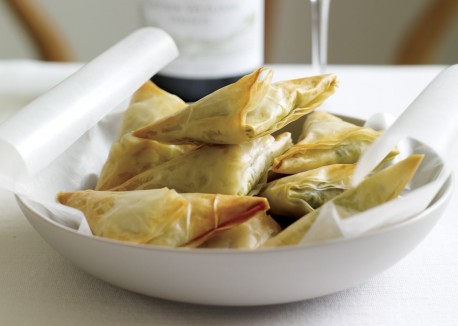 This vegan version of this classic Greek snack will deliver all the flavor punch with none of the added fat or cholesterol. A little labor intensive, but well worth the effort. (Honey, you're worth it!)
Ingredients
Setup
Vegetable broth
3 shallots, sliced
8 oz. mushrooms, diced
1 ½ C loose baby spinach
1 ½ C cooked cannellini beans, mashed
1 tsp olive oil
Salt/white pepper
1 package of phyllo dough, defrosted overnight
Coconut oil, warmed to a liquid
Preheat oven to 400 °.
Directions
Saute shallots in vegetable broth over med-high heat, until caramelized. Add in mushrooms and allow them to cook down – about 5 minutes. Add in spinach and take off heat after it wilts, about 1 minute.
In a large mixing bowl, mix the mashed beans with the mushroom/spinach mixture, the olive oil and salt & white pepper. Roll out the phyllo. Carefully peel away one sheet and fold in half lengthwise. With a pastry brush, brush on the coconut oil on the entire sheet. Scoop 2-3 TBS of mushroom/spinach on to one end of the dough in the middle. Begin to fold the dough over in a triangle fashion, like folding a flag. When you reach the other end, apply a little more coconut oil to it and seal the pocket. Place all pockets on a baking sheet lined with parchment paper and bake for 20 minutes. Serve with Tahini Dill Sauce (recipe below).
Tahini Dill Sauce
¾ C tahini paste
¼ C water
1 tsp garlic powder
Juice of ½ lemon
1 TBS olive oil
2 TBS balsamic vinegar or champagne vinegar
Scant of salt
Handful of fresh dill or 2 TBS of dry dill
Blend all ingredients together; add more water as needed if it is too thick. Add dill at end and continue to blend for another couple of seconds. Serve immediately.  
Video
How did this recipe work out?
Leave a Reply