The NEW Breakfast of Champions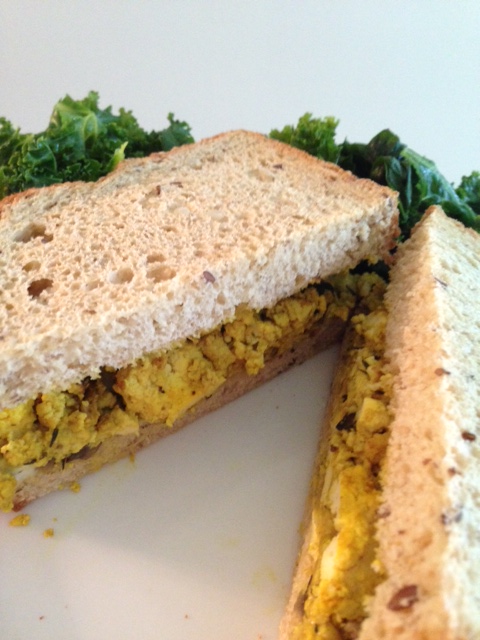 Step aside Wheaties, this new sammie and side have got the spotlight now.  If you are looking for a new breakfast idea that will meet darn near every nutritional need your beautiful bod is screaming for; then keep reading...
This tofu scramble begins with a quick saute of leeks, 'shrooms and a bit of garlic.  Break apart a block of extra firm tofu, keep the heat up, add in a spice mixture, top with nutritional yeast and in between two toasted slices of (a new favorite) One Degree Organic Veganic Sesame Sunflower Bread, and. you're. done.
Want to really push your nutritional limits?  Add a side of steamed kale.
And, because I can, ladies: might I suggest you serve this to your man; breakfast in bed is usually a sure bet for more hanky panky; not that he won't be all over you anyway. 
And, because I will, men: we know you have two brains, if you're in the sack and those two organs are not in agreement, I have news for you… A plant-based diet has PROVEN to reverse that "issue".   But don't take my word for it.  You can read this, and this, and this, and this.
Ingredients
Setup
Scrambled tofu
 SPICE BLEND:
1 tsp dried thyme
1 tsp ground turmeric
½  tsp black salt
3 TBS water
SCRAMBLED TOFU:
1 large leek, sliced into thin rings (white part only)
8 oz sliced mushrooms
3 garlic cloves, minced
1 lb extra firm tofu, drained and squeezed to soak up as much water as possible
½  C nutritional yeast
Ground black pepper
Directions
Blend spices together, add water and mix well.  Set aside
Preheat a large skillet over medium-high heat.  Add the leeks to the hot pan and sauté until they soften a bit, add in mushrooms and once they begin to releases their juices, add in the garlic and continue to cook for another 2-3 minutes. If at any tie the food begins to stick, simply add a few tablespoons of water or vegetable broth to deglaze. This type of dry sauteing condenses flavor and cuts calories and fat, you just want to make sure you are continually stirring the ingredients .
Break apart the tofu into bite sized pieces and sauté with the vegetables for 10-12 minutes.  Stir often.  (You'll want to use a metal spatula to get under the entire tofu to get the crispy part).  Continue to cook until the tofu browns up a bit.  At this point add the spice mixture and incorporate well.  Add the nutritional yeast and pepper.  Cook for another 5 minutes and serve warm either alone or as a sandwich.  YUM!
How did this recipe work out?
Leave a Reply