Plant-based Paella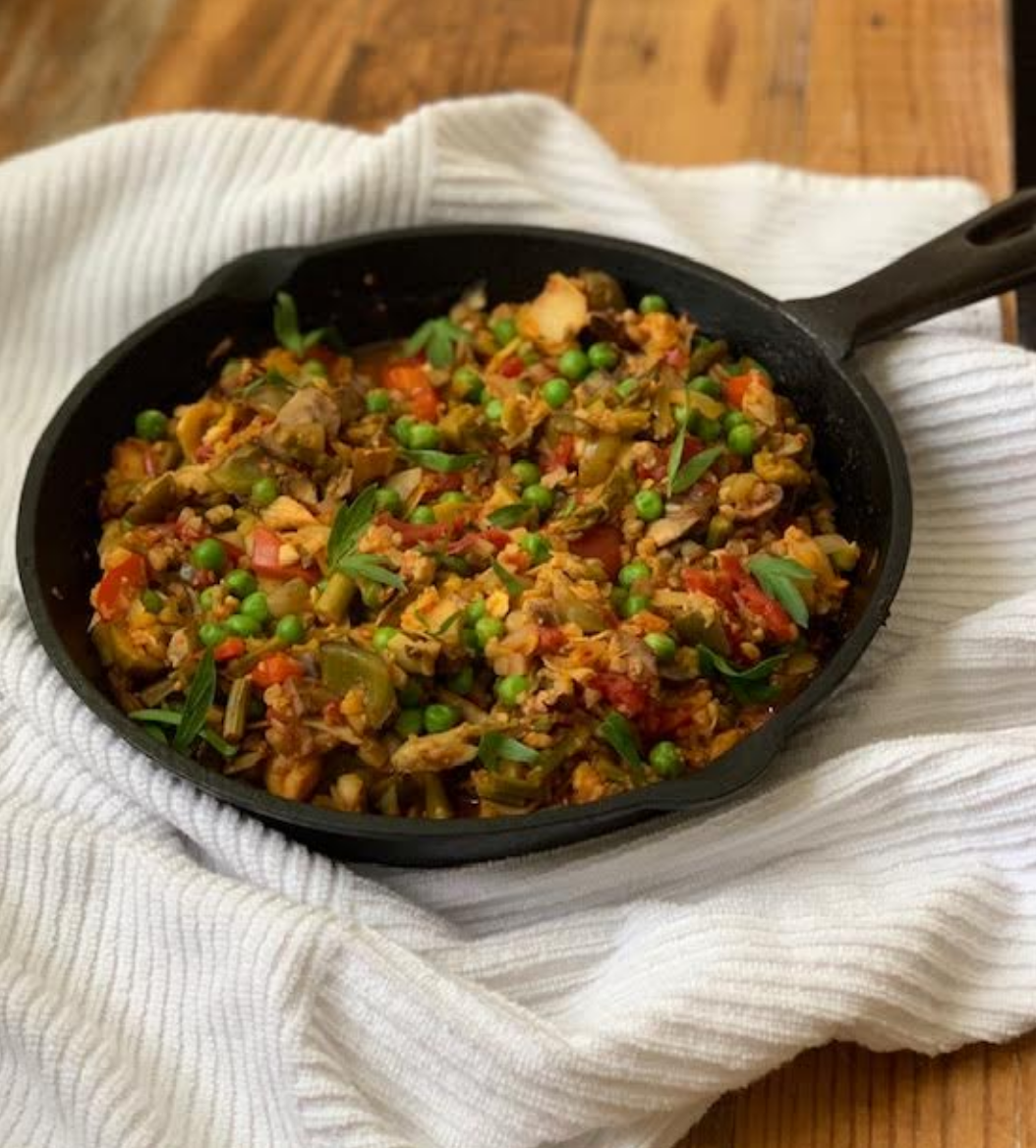 The ultimate one-pot meal! This plant-based riff on authentic Spanish Paella has deep layers of flavor that will have you scooping up the very last drop of goodness with big thick crusty bread!
Ingredients
Setup
!/2 yellow onion, chopped
1/2 red bell pepper, chopped
1 poblano pepper, chopped
1 cup vegetable broth
3 garlic cloves, minced
1 cup fresh mushrooms, de-stemmed and roughly chopped*
3 piquillo peppers, chopped
1/2 cup cooked artichoke hearts, chopped (I used canned)
1/4 cup green olives with pimentos, cut in half
1 cup San Marzano tomatoes + juice from can, roughly chopped**
1 1/2 teaspoons smoked paprika
1/4 teaspoon freshly ground black pepper
pinch of saffron
16 ounces riced cauliflower (I used frozen from Trader Joe's)
1/2 cup green peas
Italian parsley to garnish, optional
Directions
Pre-heat oven to 400 degrees F.
To an oven safe, pre-heated skillet, add the onion, bell pepper and poblano pepper. Bring the heat down to medium-high and stir often. When the onion becomes translucent, add in the garlic and continue to stir. If the vegetables begin to stick, add in a tablespoon or so of the broth to de-glaze. After about 60 seconds, add in the mushrooms, piquillos, artichokes, green olives, tomatoes+juice, paprika, ground black pepper, and saffron. Stir well.
Add in rice and mix well again. Add in 1/4 cup of the broth, stir and transfer to the oven. Bake for 20 minutes, checking every 5 minutes or so to add more broth if it evaporates (but only if it is looking really dry). On the last 5 minutes, add the peas, lightly stir and place back in oven.
Garnish with parsley if using and serve from hot skillet.
*I used Chinese shiitake mushrooms (which look like crimini), but any mushroom with work.
** If you cannot find San Marzano, fire-roasted tomatoes are also good.
Serves 4
How did this recipe work out?
Leave a Reply