Skinny Spinach Artichoke Dip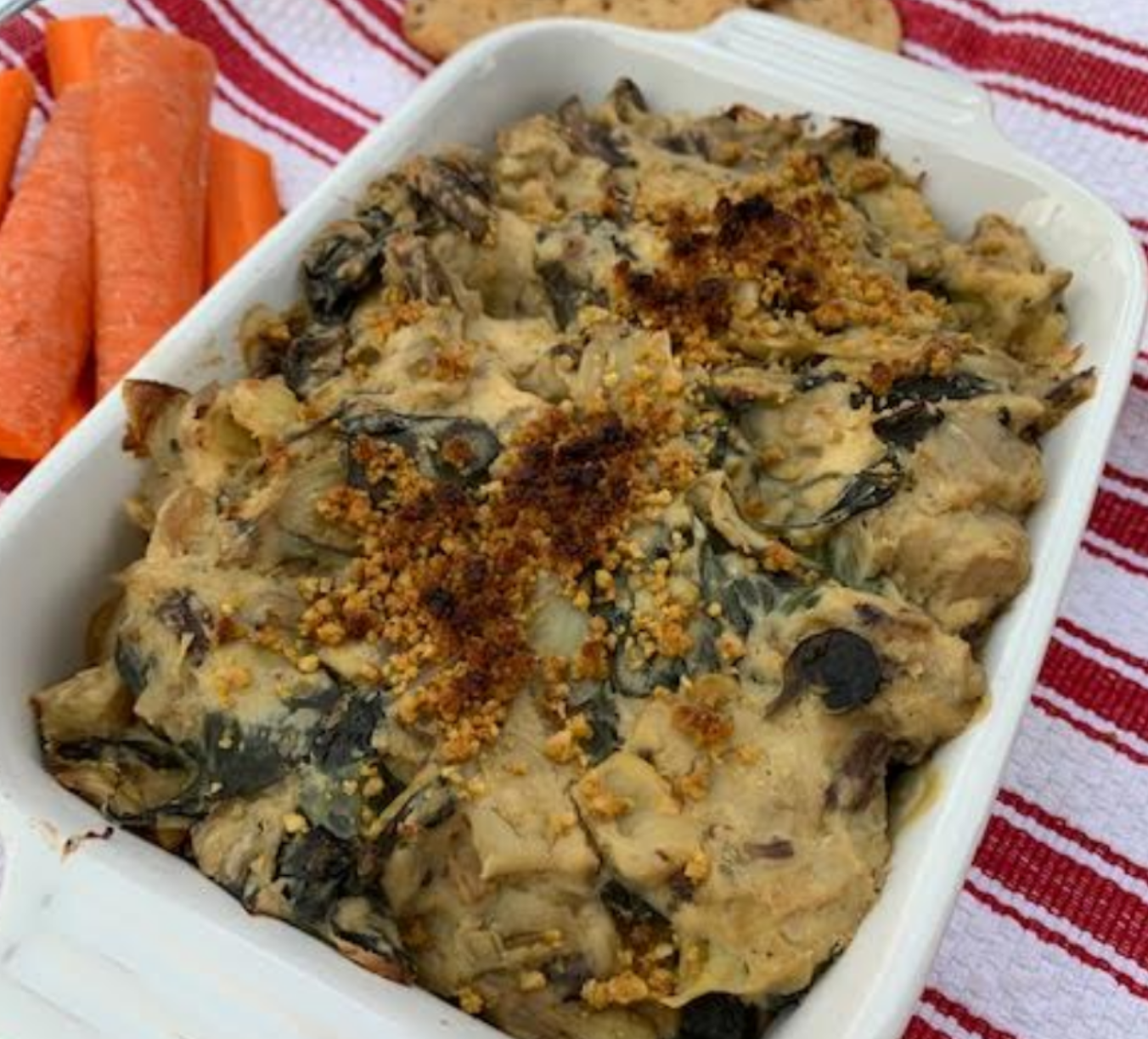 This indulgent and favorite recipe for many now loses a lot of fat and calories typically associated with it. No nuts here, baby!
Ingredients
Setup
1/2 yellow onion, diced
3 cloves of garlic, minced
1 12ounce package of ultra firm silken tofu
1/3-1/2 cup nutritional yeast
juice of 1/2 lemon
10 ounces of chopped frozen spinach, defrosted and squeezed nearly dry
1 1/2 cups (one-14 oz can, drained) artichoke hearts, roughly chopped
Directions
Preheat your over to 400.
To a hot skillet, add the onions and garlic.Bring the heat down to a cooking temp. Aim for med-high.
As the vegetables are cooking, (watch them and add a tablespoon of water if needed), to a blender, add the tofu, yeast, lemon, pinch of salt and fresh ground pepper. Blend until smooth.
Add the spinach and artichokes. Stir until warmed through.
Add the tofu mixture, continue to stir. Taste and adjust for flavor.
Transfer to a baking dish and cook uncovered for about 25 minutes.
OPTIONAL: You can sprinkle some of the Perfect Parm and hot it with the broiler for 20-30 seconds for an additional crispy topping.
Here is the recipe for the crap free baked tortilla chips.
______
Check out our latest classes: https://www.cpbl-stl.com/classes
To purchase some of the kitchen tools I use here https://tinyurl.com/yyacj2cg
To subscribe to the weekly Plant-based Quick Cooking Show: https://www.youtube.com/channel/UCExWwoBh6fvdOgghkjh0U1A?
Thanks for all of your support!
How did this recipe work out?
Leave a Reply