Smoky Swiss Chard and Beans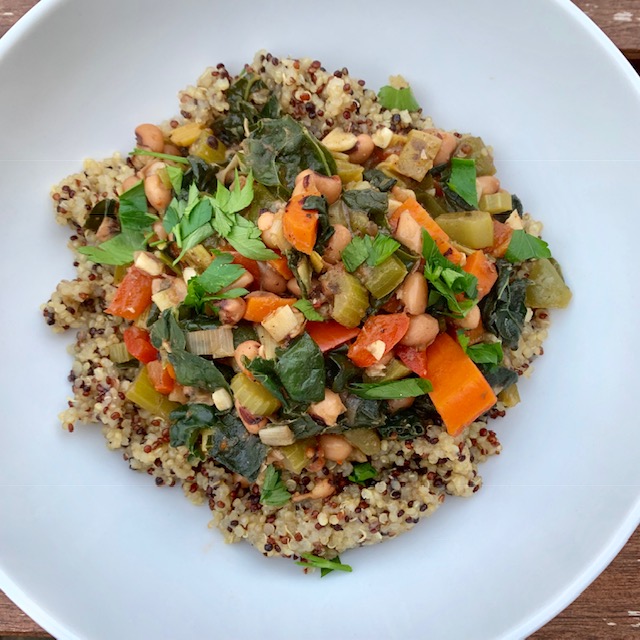 A little smoky, a little spicy, this easy to come together recipe hits the senses, checks off the nutrients needed and keeps those calories low. Using one whole bunch of greens, to boot! Who needs a salad? Not you.
Ingredients
Setup
1 cup quinoa, rinsed
2 cups water or low sodium vegetable broth
3 celery stalks, cut length-wise and cut into 1/4" slices
2 carrots, cut in half length-wise and cut into 1/4" half moons
1 jalapeno pepper, de-seeded and minced
1 red bell pepper, sliced thinly
1 leek, ends cut off, rinsed and cut into 1/2" inch half moons
2-3 cloves of garlic, minced
2 teaspoons smoked paprika
1 teaspoon cumin
1 teaspoon oregano
pinch of fresh ground pepper
1 cup vegetable broth
1 14 oz can of black beans, drained and rinsed (any other type of small bean will work as well)
1 bunch of Swiss chard, washed and cut (directions below)
fresh parsley to garnish (optional)
Directions
In a sauce pan add the quinoa and water or broth. Bring to a boil, and down to a simmer. Cover and let cook for 12-15 minutes. Fluff with a fork and set aside.
To a large pre-heated skillet, add the celery, carrots, jalapenos and bell pepper. Bring the heat down to medium-high and stir continuously for 4-5 minutes. If there is a little sticking, add a tablespoon of broth at a time. Add the garlic and leeks and continue to cook for 2-3 minutes, stirring often. Add the spices, stir and after another minute or so, add the black beans and Swiss chard and the rest of the broth. Cover for about 5 minutes to allow the greens to wilt down.
Serve hot over quinoa and garnish with parsley (if using)
Serves 4
NOTE:
Cutting your Swiss chard- After washing, stack 2-3 leaves, roll and slice (julianne) 1/4 inches like you would with fresh basil. When you get to the bottom of the leaf, make 2-3 perpendicular cuts so that you don't have long strands of greens.
How did this recipe work out?
Leave a Reply