Sweet Potato Stuffed Mushrooms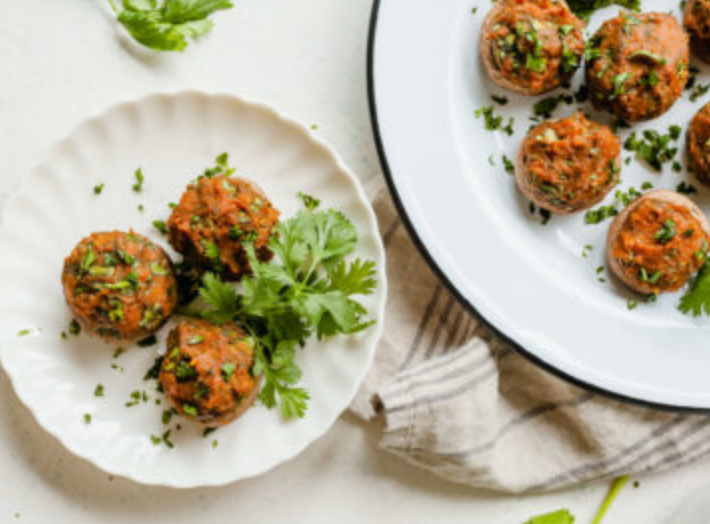 The perfect appetizer or even a full meal! These savory and smoky little stuffed 'shrooms make a great anytime food and you can make them ahead and pop them all week long!
Ingredients
Setup
12 baby bella mushroom caps
1 large sweet potato
½ cup cooked or canned chickpeas
1 teaspoon ground cumin
1 teaspoon ground coriander
1 teaspoon smoked paprika
1 teaspoon chili powder
Salt and black pepper
½ cup chopped spinach
¼ cup chopped cilantro
Directions
Preheat oven to 350°F.
De-stem, rinse, and dry the mushroom caps.
Microwave the sweet potato on high for 6 to 8 minutes, or roast it in a 425°F oven for 30 minutes, or until fork-tender. Let the sweet potato cool slightly.
In a food processor, combine the cooked sweet potato, chickpeas, cumin, coriander, paprika, and chili powder; pulse until the mixture is thick and creamy. Season to taste with salt and pepper.
Stir in the spinach.
Spoon the filling into mushroom caps, about 1 tablespoon per cap. Bake the filled mushrooms for about 30 minutes.
Serve garnished with cilantro.
Recipe courtesy of Jim Loomis, MD
Photo courtesy of Forks Over Knives
How did this recipe work out?
Leave a Reply