White Bean and Kale Soup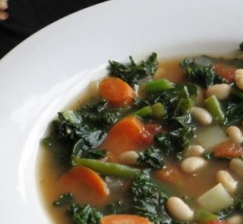 A simple, yet incredibly nourishing quick meal that I'm convinced plays a part in me not suffering from that pesky flu I used to get every winter.  Packed with nutrient dense kale, fiber filled beans and tasty roasted tomatoes, this soup is quick, economical and freezes well. 
Ingredients
Setup
1 large yellow onion, diced
2 large carrots, diced
2 celery stalks, diced
2-4  garlic cloves (depending on taste), roughly chopped
4 cups vegetable broth
4 cups kale, de-stemmed and roughly chopped
1 (14 ounces) can diced tomatoes, Fire Roasted, no salt added
1 (28 ounces) large can cannellini beans, drained and rinsed, no salt added
Salt/pepper to taste
Directions
In a large saucepan, heat up a few tablespoons of broth and begin to sauté the onion, carrots and celery for about 4 minutes, or until the mixture begins to sweat down.  Add in the garlic and continue to cook for another two minutes.  Add in broth, kale, tomatoes, beans and salt/pepper.  Bring to a boil and down to a simmer.  Cover and allow to cook until the kale has wilted (about 10 minutes). 
How did this recipe work out?
Leave a Reply