White Bean Chili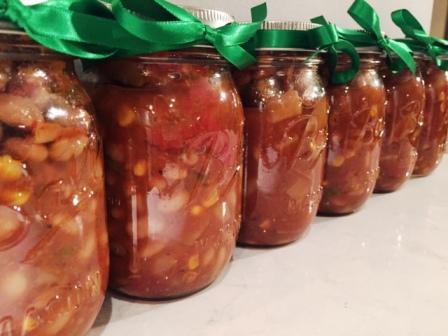 Yeah, so everybody does a white bean chili, so what?  So, here's one that is quick, oil-free, gluten free, cholesterol free, but alas!... packed with layers of flavor!  Take this to your next chili competition and send me a pic of that trophy, my friend. 
Ingredients
Setup
4C + 1/4 C vegetable broth
1 large yellow onion, diced
3 celery stalks, chopped
3 cloves of garlic, minced
4.5 oz can of diced green chiles
3 tsp chili powder
28 oz can of diced roasted red pepper tomatoes (juices included)
1.5 C frozen roasted corn
4 14 oz cans of great northern beans (drained and rinsed)
3 red potatoes cut into 1 " pieces (do not peel)
2 TBS dried oregano
1 tsp white pepper
sea salt to taste
Directions
Heat a medium sized skillet over high heat, add in 1/4 C vegetable broth, the onion and the celery.  Saute for about 3 minutes and add in the garlic and the chiles.  Continue to saute for another minute or so, until heated through.  Add the chili powder, mix well and transfer to a 6 QT crock pot.  Add in the remaining ingredients and set for six hours on high.
Stove top option:
Saute onion through chile as directed above in a dutch oven.  Add in the chili powder, mix well and add in the tomatoes through the salt.  Bring chili to a boil and down to a simmer.  Cover and allow to cook for 1.5 hours, or until the potatoes are tender.  Season to taste.
This makes 12 servings and freezes well.
To freeze: portion out into tightly fitted glass containers (such as canning jars).  Leave a little space at the top for expansion.  Thaw overnight in the refrigerator or for an hour in a warm water.  Re-heat over stove top.
How did this recipe work out?
Leave a Reply