Air Fried Spinach Artichoke Egg Rolls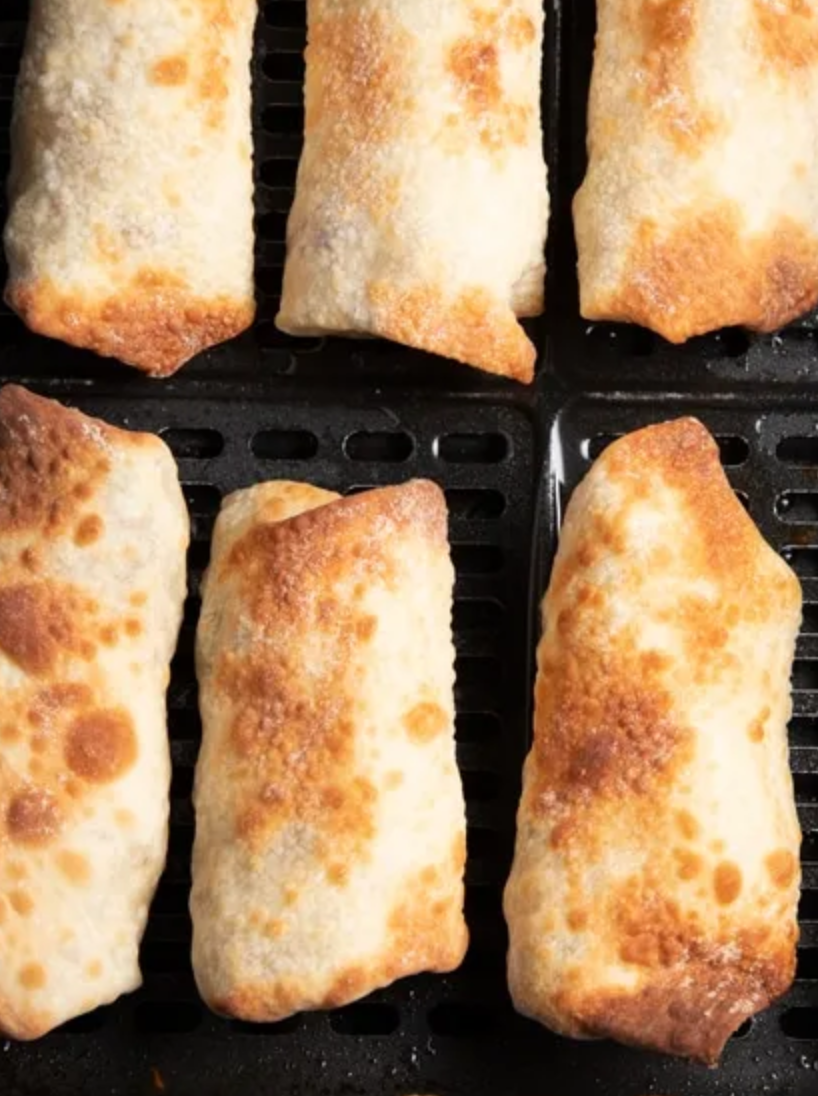 This spinach artichoke dip had been amped up with more vegetables and Italian seasoning and then all rolled up in vegan egg roll wrappers and air-fried! What?! Get ready to crunch through to creamy dip you've always loved.
Ingredients
Setup
1/2 yellow onion, minced
1/2 red bell pepper, minced
2-3 garlic cloves, minced
8 oz mushrooms, chopped small
9 oz frozen chopped spinach, defrosted
14 oz can of artichoke hearts, roughly chopped
1 teaspoon each of: dried oregano, thyme and rosemary -OR- 1 tablespoon of your favorite Italian seasoning blend
salt and pepper to taste
1 12.3 oz. package of light firm silken tofu
1/4 cup nutritional yeast
juice of 1/2 lemon
1 teaspoon of mild/white miso paste
Directions
OVEN and AIR FRYER COOKING:

Preheat over to 400-convection or 425, on a regular setting.
Bring a large skillet to high heat and add the onion and bell pepper. Add a tablespoon of water as needed to deglaze. Once the onion/pepper are soft, add the garlic. After about 45 seconds, add your spinach and artichokes. Mix well and add the spices. Allow the mixture to cook and the liquid to evaporate. Season with salt and pepper to taste.
Meanwhile, to a blender, add the tofu, nutritional yeast, lemon juice and miso. Blend until creamy. Add to the vegetable mixture and stir well. Adjust flavors by adding or pepper or yeast.
Cook over medium heat until it becomes thick and then transfer to a bowl to cool to the touch.
Take one of the egg roll wrappers and place it in front of you with one of the corners pointed toward you, in a diamond shape. Place one heaping spoonful of the spinach artichoke dip, centered and 2/3 of the way down on the wrapper. Take that corner pointed toward you and gently wrap  it  over the mixture and gently tuck it under. Next, fold in each side and continue to roll up. With a little bit of water, seal the wrapper shut. Place roll on a baking sheet or in air-fryer. Repeat.
Bake for 11 minutes or air fry at 400 for 9 minutes.
You don't want them to brown too much as they will become very firm as they cool down.
Makes 8.
___________
Check out our latest cooking classes: https://www.cpbl-stl.com/classes
To purchase some of the kitchen tools I use here https://tinyurl.com/yyacj2cg
To subscribe to the weekly Plant-based Quick Cooking Show: https://www.youtube.com/channel/UCExWwoBh6fvdOgghkjh0U1A?
Thanks for all of your support!
How did this recipe work out?
Posted by
Jim wiltsch
on
May 12th, 2021
Made these and they were awesome (and the leftovers are awesome). Nailed it stlVegGirl. This one will be a staple.
Jim
Posted by
caryn
on
May 12th, 2021
Fantastic! So happy you liked!!
Leave a Reply