Asian Quinoa with Asparagus and Baby Bok Choy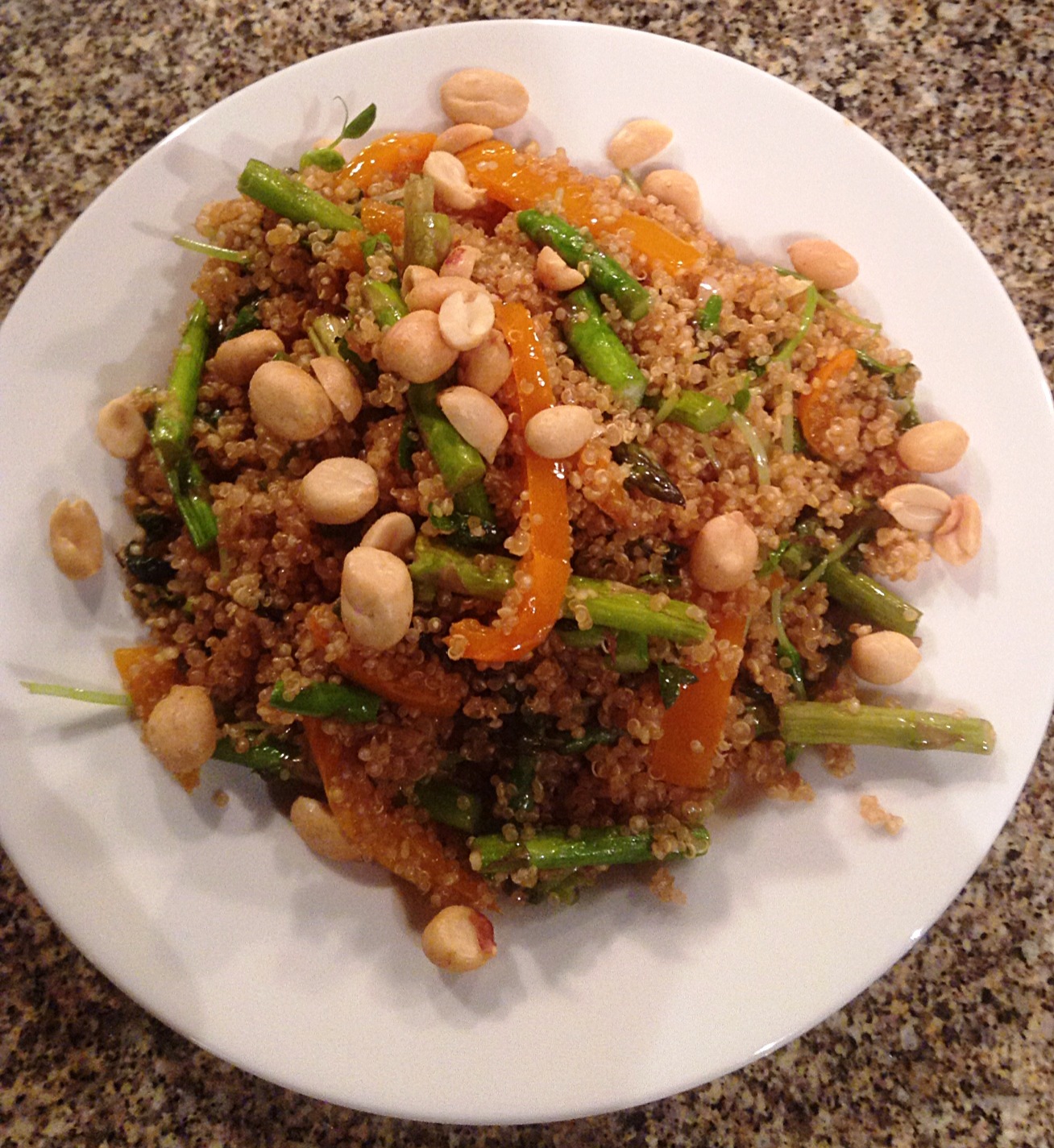 This quick to make Asian inspired dish incorporates easy to cook seasonal greens and the all popular nutritional powerhouse, quinoa.  Who would put asparagus, bok choy and micro greens together?  You would.  And, now your friends will believe you when you tell them salads aren't boring....
Ingredients
Setup
1 C quinoa, rinsed
2 C vegetable broth
1 tsp toasted sesame oil (optional)
2 baby bok choy, ends cut off, rinsed and roughly chopped
1 bunch of asparagus, bottoms cut off and stalks cut into 1 1/2" pieces
2 cloves garlic, minced
3 scallions, sliced thinly, green part only
1/2 red bell pepper, washed and sliced thin
1 loosely packed cup of pea shoots or any other micro green
1 TBS fresh ginger root, grated
1/4 C rice vinegar
1/8 C soy sauce
peanuts
Directions
In a sauce pan, bring the quinoa and broth to a slow boil and down to a simmer.  Allow quinoa to cook for 12-15 minutes, stirring every several minutes.  You'll know it's done when the seeds become somewhat translucent. Remove from heat. 
As the quinoa is cooking, heat the oil* in a large skillet over med-high heat.  Toss in the asparagus and the thick, stalk like parts of the bok choy.  Saute for about 3-4 minutes, tossing often.  Add in the garlic, scallions, leafy part of the bok choy and bell pepper.  Continue to cook, tossing and stirring often, making sure you don't burn the garlic. 
Once the asparagus and thick part of the bok choy are tender, toss the vegetables and the quinoa all into a large mixing bowl.  Add in the pea shoots and gently toss.  Finally add in the dressing (recipe below) and continue to toss.  Garnish with peanuts and serve.  This can be served either warm or chilled. 
DRESSING
Whisk the rice vinegar, soy sauce** and ginger root in a small prep bowl.  Pour over quinoa.
*to make this dish oil-free, saute vegetables in broth instead of oil.
** to make this dish gluten free, use tamari, Braggs Liquid Aminos or liquid coconut aminos instead of soy sauce
Video
How did this recipe work out?
Leave a Reply