Autumn Nourish Bowl I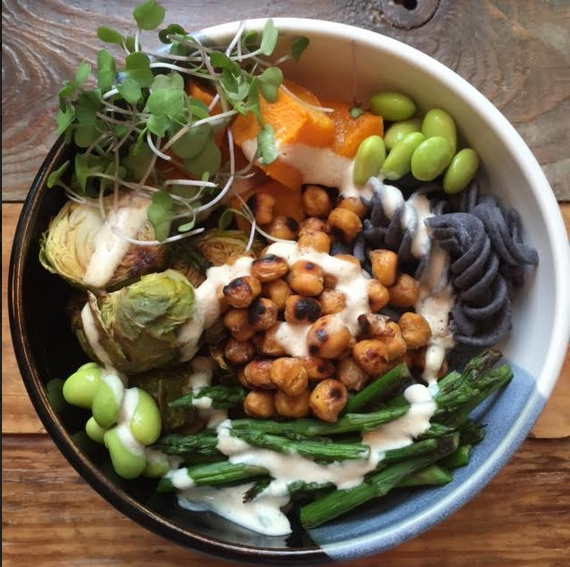 Bowls are back! (Did they every leave?) I dub bowls as "kitchen sink cooking". Autumn has arrived and let's take all the goodness the season has to offer and throw it in a bowl- whip up a tasty dressing and viola! Instant deliciousness that is interesting and nutritious!
Ingredients
Setup
Bowl
cubed and roasted butternut squash
cooked black bean pasta, cooked per package instructions
seared asparagus
roasted Brussels sprouts
pre-cooked edamame
cooked and roasted chickpeas
brown rice, cooked per package instructions
kale sprouts to garnish
Dressing
1/4 cup tahini paste
2 teaspoons miso paste
juice of 1/2 lemon
2 dates (de-pitted)
pinch of red pepper flakes
Directions
You will have more ingredients than you need for one bowl; this recipe will make 3-4 servings - depending upon the size of your bowl of course.
Preheat oven to 375-degrees F.
To save time, I purchased the pre-cut butternut squash and tossed that with the Brussels (slice of rough stem and cut in half) in a large bowl with a quick spray of olive oil and a pinch of salt. Transfer that to a parchment paper lined baking tray and cook for 35 minutes.
Cut the rough ends of the asparagus off and chop remaining stalks into three pieces. Heat up a skillet to medium heat and begin dry saute the vegetable. Stir often, if it begins to stick, add just a tablespoon of water or vegetable broth and get things moving again. Cook only until bright green, you want to keep some of that crunch.
Using a 14 oz. can of chickpeas, drain and rinse the beans. Heat a skillet to high heat and begin to roast. Shake pan often until they begin to blacked a bit
For the dressing, blend all ingredients until creamy. The consistency of the dressing will be up to you, add just a little water for a thicker dip-like dressing, or thin it down by adding more water.
I scooped in some brown rice first and then lined the bowl with the rest of the ingredients.
How did this recipe work out?
Leave a Reply