Autumn Nourish Bowl III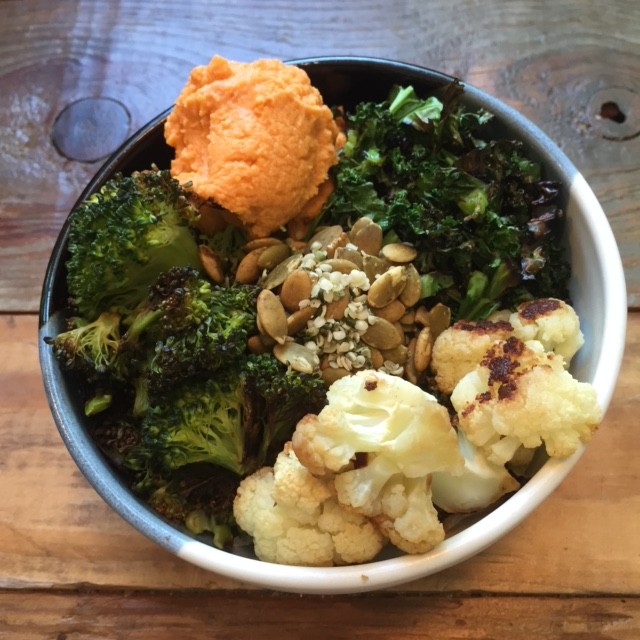 Bowls are back! (Did they every leave?) I dub bowls as "kitchen sink cooking". Autumn has arrived and let's take all the goodness the season has to offer and throw it in a bowl- whip up a tasty dressing and viola! Instant deliciousness that is interesting and nutritious!
Ingredients
Setup
Bowl
Cauliflower, cut into bite-sized pieces
Broccoli, cut into bite-sized pieces,
Curly kale, cleaned and shredded
Farro, cooked to package instructions
pumpkin seeds
hemp seeds
Hummus
14 oz cooked chickpeas, rinsed
juice of 1/2 lemon
1 tablespoon tahini paste
1 clove of garlic
pinch of sea salt
2-3 tablespoons sun-dried tomatoes (not packed in oil)
Directions
There are enough ingredients here for several bowl preparations.
Preheat oven to 375-degrees F.
Place the broccoli and cauliflower on a baking sheet with parchment paper. Very gently spray vegetables with olive oil so they do not burn. Cook for 30 minutes or until they begin to brown.
Rinse the kale very well. Stack a few leaves and roll. Cut the leaves in to ribbons. In a hot pan, transfer the kale and begin to cook it. Watch it closely and stir often. Once it begins to crisp up a little, remove from heat. 
Add all the ingredients for the hummus to a blender and slowly add in water or vegetable broth as it begins to mix. You can also try using a food processor, however the sun-dried tomatoes don't quite break down as much as they do when blended.
For this bowl, I scooped some farro in first and then built my bowl as shown.
How did this recipe work out?
Leave a Reply