Beans and Greens Soup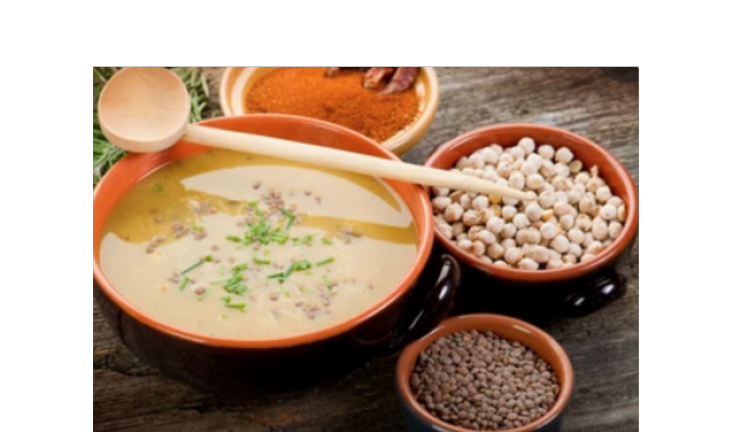 In a quest to offer an iron-rich meal, this creamy soup get you deliciously there! And, yes, it's a lot, and it freezes well! Enjoy!
Ingredients
Setup
1 large red onion, minced
4 celery stalks, chopped to about 1/2" pieces
4-5 garlic cloves, minced
1/4 cup nutritional yeast
1 1/2 tablespoons Italian seasoning (I like Trader Joe's 21 Seasoning Salute)
2 teaspoons ground cumin
2 teaspoons smoked paprika
1 teaspoon granulated garlic
1/2 teaspoon cinnamon
1/2 teaspoon red pepper flakes
ground black pepper and pinch of salt
2 cups of cooked chickpeas
2 cups of cooked green lentils
5 cups vegetable broth
1 jar of artichoke hearts, packed in water, chopped
1 14 ounce can of coconut milk (light works too)
juice of one lemon
8 ounces of fresh baby spinach, roughly chopped
3-4 leaves of mature bok choy, chopped -or- 2 baby bok choy chopped
1 bunch of parsley
Directions
To a preheated large pot or Dutch oven, add the onions and celery and begin stirring. Bring the heat down to a medium-high and add a tablespoon of water at at time if the onions begin to stick. After about 5 minutes, add the garlic and continue to stir for another minute.
Add all the spices and cook for another minute.
Add the chickpeas, lentils and vegetable broth and simmer for 25 minutes.
Add the artichoke hearts, coconut milk and lemon. Using an immersion blender, blend for about 30 seconds, you want this to be chunky with some beans intact. This is a very thick soup, if you'd like it thinner, add more water or vegetable broth now.
Add the greens, stir and allow them to cook down a bit.
Serve and garnish with parsley.
adapted from s. homemaker
____

Do you know about our STREAMING PLUS membership? 
Our membership is built like a streaming service - you get a full library of plant-based cooking classes to watch whenever you want. PLUS, you gain access to upcoming interactive virtual cooking classes and a monthly accountability group call.
As a member you get:
Complete library of all past virtual classes - stream them whenever you'd like!
Free access to upcoming virtual classes
Library of easy and quick recipes: 100 and growing
Access to private Facebook group
Monthly accountability check-in and support group Zoom call with Caryn
Quarterly "Ask the Doc" call with Dr. Jim Loomis, our Medical Director
20% off all virtual multi-week programming
A community of support
To learn more, please visit us here.
How did this recipe work out?
Leave a Reply