Chocolate Chip Power Yum Yum Cookies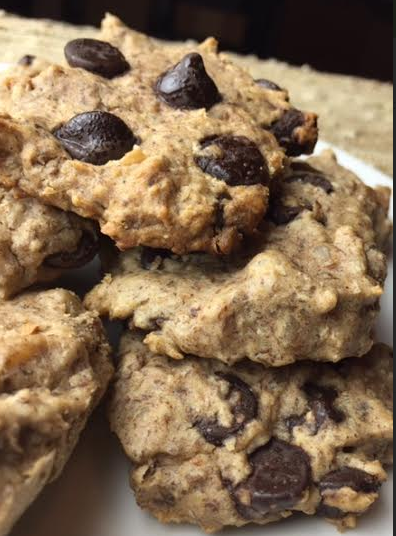 These cookies are a powerhouse for your bod! The beans deliver protein and fiber, the flax and the walnuts usher in omega-3s and even more fiber! You won't be slapping any hands caught in the cookie jar this time.
Ingredients
Setup
1 can (15 oz.) cannellini beans, drained and rinsed
1/2 cup almond butter
1/4 cup plain non-dairy milk
1/4 cup ground flax seeds
1 teaspoon vanilla extract
1 teaspoon almond extract
1 teaspoon stevia or 2 tablespoons of sugar ,or other dry sweetener (do not use a liquid sweetener, the cookies will not firm up)
1 teaspoon cinnamon 
1/4 teaspoon sea salt
1 1/2 teaspoon baking powder
1/4 cup walnuts, chopped
1/4 cup non-dairy dark chocolate chips
Directions
Preheat your oven to 375-F.
Line a cookie sheet with parchment paper.
Place beans, almond butter, milk, flax seeds, vanilla and almond extracts, stevia, cinnamon, sea salt and baking powder in a food processor. Blend until smooth, scraping down the sides as you go. Transfer the mixture to a mixing bowl and fold in the walnuts and chocolate chips.
Pick off 1 1/2 " of the mixture and drop on to baking sheet. Repeat, leaving about 2" in between each dough drop. Press each cookie slightly with your fingers (if they stick dip your fingers in cold water) and round out the sides.
Bake for 20 minutes. When they begin to get slightly golden, pull them out of the oven and transfer to a cooking rack. As they cool down they will become more firm.
Makes 16 cookies
Cook time: 20 minutes
Total time: 35 minutes
For More Information on Stevia.
_____
Some things happening at the Center for Plant-based Living:
1. Check out our latest classes: https://www.cpbl-stl.com/classes
2. To purchase some of the kitchen tools I use https://tinyurl.com/yyacj2cg
3. To subscribe to the weekly Plant-based Quick Cooking Show: https://www.youtube.com/channel/UCExWwoBh6fvdOgghkjh0U1A?
COMING SOON – Virtual Membership.
Thank you for your continued support!
How did this recipe work out?
Leave a Reply