Creamy Kale and Basil Pesto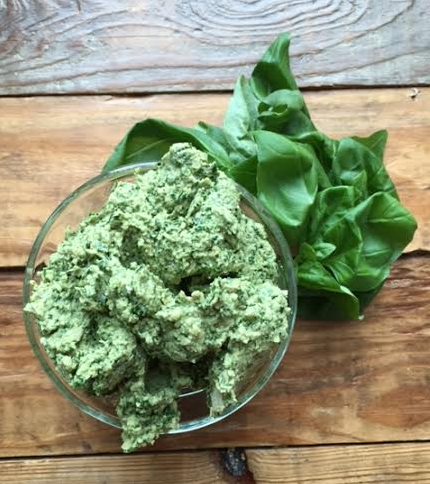 Using the name 'pesto' liberally, this kale and basil spread does have hints of the popular dish, just without the oil and dairy. But, boy, will you still loooove it!
Ingredients
Setup
3 leaves of curly kale, washed and torn
1 bunch of basil, washed
juice of one lemon
1/2 cup walnuts
1 14 oz. can of cannellini beans, drained and rinsed
2 cloves of garlic
3 tablespoons of nutritional yeast
1 1/2 teaspoon sea salt
water as needed
Directions
To a food processor, add the kale leaves and pulse a few times until they are coarsely cut. Add the rest of the ingredients and drizzle in water until you get things moving. This can be made as thick or thin as you like by adding water.
I put this on the OMG Breakfast Pizza, however, you can put it over pasta, a sweet potato, dollop it on a veg burger, use it as a dip... it's up to you.
How did this recipe work out?
Leave a Reply