OMG Breakfast Pizza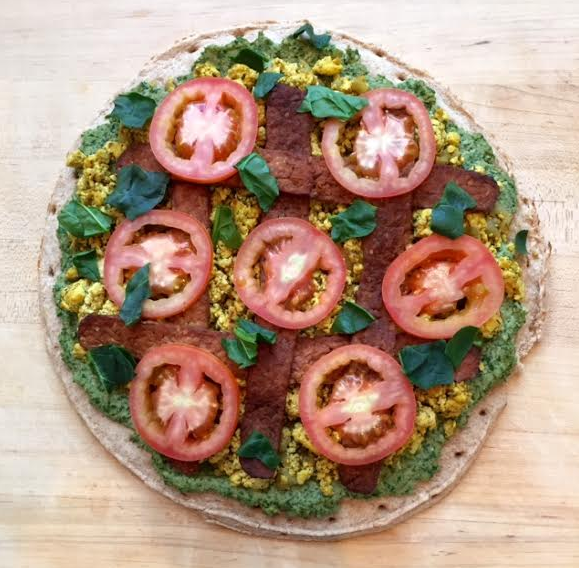 No way baby, this is NOT last night's dinner! This is your new breakfast: Breakfast Pizza.
This plant-based, oil-free, guilt-free pizza does not require a hangover needed to nosh a pie in the a.m. You're starting off the day right with a kale and basil pesto, topped with creamy and cheesy organic tofu eggs and "bacon".  This will keep you satiated well into the day.
Ingredients
Setup
1 10" whole wheat pizza crust (I chose Engine 2 brand)*
PESTO
3 large leaves of kale, washed and de-stemmed
1 bunch of basil, leaving several leaves for garnish
1/2 cup of walnuts
1 14 oz can of white beans, drained and rinsed
2 cloves of garlic
juice of one lemon
1 1/2 teaspoon sea salt
1/4-1/2 cup water
EGGS
1/2 yellow onion, diced
2 cloves of garlic, minced
1 12 oz block of organic extra firm tofu
1 tablespoon nutritional yeast
1 teaspoon of each: ground cumin, dried thyme, dried rosemary, dried oregano
1/2 teaspoon turmeric
sea salt and ground black pepper to taste
1/8-1/4 teaspoon kala namalk (black salt)
5 strips of Llightlife Smoky Tempeh Strips**
1 Roma tomato sliced into 5 -6 slices
fresh basil 
Directions
If your pizza crust is frozen, allow it to thaw as you make the recipe.
Preheat your oven to 375- degrees F.
To a food processor, add in the kale leaves and pulse 4-5 times (about 5 seconds each pulse) until it is well chopped up. Add in the rest of the pesto ingredients and drizzle in the water until you have a nice creamy consistency. Set aside.
Over medium-high heat, and in a large skillet begin to saute the onions. Add a pinch of salt to pull out the moisture and condense the sugars. Watch the onions carefully so they don't burn; drizzle in a little water if they start to char a bit. After 3-4 minutes, add in the garlic and keep everything moving for about one minute.
With your hands, crumble the tofu into the pan, mix well with the onion and garlic and and bring the heat down to medium. Allow the tofu mixture to sit and crisp up a little. Flip and mix, and allow the other uncooked surfaces to do the same. In a small bowl, mix the nutritional yeast, cumin, thyme, rosemary, oregano, turmeric, salt and pepper with 3 tablespoons of water. Whisk and add to the tofu. Mix well and allow the water to mostly evaporate. Add in the kala namalk. Continue to stir. Take off heat and set aside.
Place 5 strips of smoked tempeh in a pan over medium heat and lightly cook each side for about 3 minutes. Remove from heat and set aside.
Take your pizza crust and with a spoon, scoop on your pesto, as thinly or as thickly as you like. Next layer on the tofu eggs. Add your tempeh strips and then finally the tomatoes.
Bake for 20 minutes. Remove the Breakfast Pizza from the oven, top with basil and continue to bake for another 5 minutes.
Allow it to cool for about 10 minutes, slice and serve.
NOTES:
*this can easily be made gluten free by swapping out a gluten free crust.
** if you choose not to purchase the Smoky Tempeh Strips, you can make your own by buying a package of tempeh, slicing into 1/4" wide strips and marinating into a whisked mixture of
1 teaspoon soy sauce
1 teaspoon agave syrup or brown rice syrup
½ tsp red hot sauce
2 tsp liquid smoke
½ tsp smoked paprika
Black pepper and salt to taste
Video
How did this recipe work out?
Leave a Reply