Creamy Tuscan White Bean and Kale Soup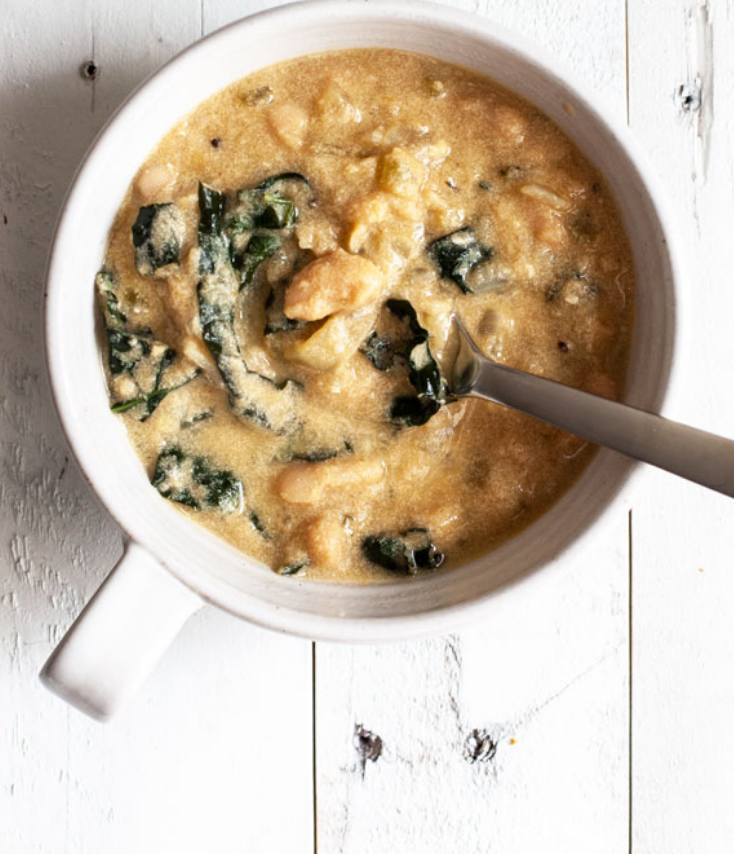 This deliciously light, yet creamy and filling soup will offer a boost in your immune system keeping those sniffles away all winter long.
Ingredients
Setup
1-2 tablespoon vegetable broth
1 large white or yellow onion chopped
3 stalks celery chopped
4 large or 6 small cloves garlic minced
2 cans cooked cannellini, drained and rinsed
4 cups low sodium vegetable broth
1 tablespoon chopped fresh rosemary
2 teaspoons fresh thyme
1 16- ounce container Silken Tofu
1 small bunch Tuscan lacinato kale, thick stems removed and chopped
2 tablespoons freshly squeezed lemon juice
3 tablespoons nutritional yeast
Freshly salt and  ground black pepper to taste
Directions

1) Heat the vegetable broth in a large pot over medium high heat, add the onion, garlic  and celery. Sauté for 5-8 minutes, or until the onion is soft and clear.

2) Add the beans, broth, rosemary, thyme, and salt and pepper to the pot. Bring to a boil, then reduce the heat to low. Cover and simmer for 15 minutes.

3) Add silken tofu and rough purée with an immersion blender.

4) Stir in the kale, lemon, and nutritional yeast. Cover and simmer for another  5 minutes. Taste the soup and adjust salt and pepper as needed.
Recipe courtesy of Jim Loomis, MD.
How did this recipe work out?
Leave a Reply