Crispy Artichoke Fritters with Dill Mayo (air fryer recipe)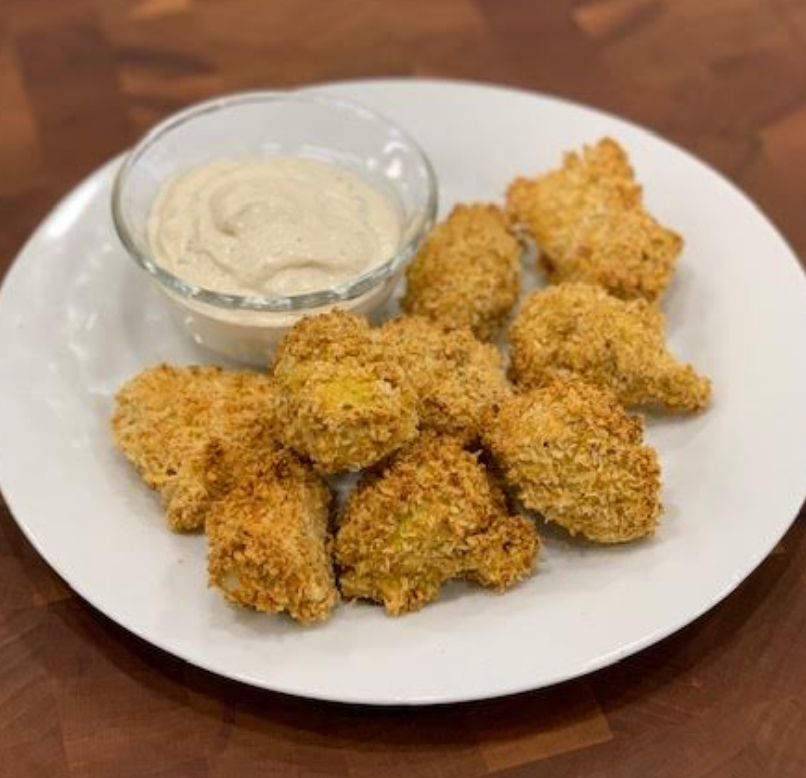 I'm not surprised by much, but when I dipped one of these into the mayo and then shoved it in my mouth (recipe testing is not pretty), the angels sang.
Ingredients
Setup
Wet Mix
1 1/4 cups flour of your choosing
3/4-1 cup of unsweetened dairy-free milk
Dry Mix
1 3/4 cup panko bread crumbs
2 tablespoons nutritional yeast
1 tablespoon Trader Joe's 21 Seasoning Salute (can sub dried oregano)
2 teaspoons smoked paprika
pinch of sea salt and freshly ground pepper
1 14oz can of artichoke hearts
1 teaspoon dried dill.
One recipe's worth of mayo.
Directions
In one small mixing bowl, mix the wet ingredients together, creating a batter.
In another small mixing bowl, mix the dry ingredients together.
Open the can of artichoke hearts and gently squeeze them with a clean kitchen towel.
One by one dip each heart into the batter and then the dry mixture. Place in the air fryer in one layer.
Bake for 15 minutes at 370 degrees.
Meanwhile make your mayo. Add one teaspoon of dried dill after you have your finished product and pulse the blender once or twice, only to incorporate the dill. Do not fully blend as you want to see the specs of dill.
----
Check out our latest classes: https://www.cpbl-stl.com/classes
To purchase some of the kitchen tools I use here https://tinyurl.com/yyacj2cg
To subscribe to the weekly Plant-based Quick Cooking Show: https://www.youtube.com/channel/UCExWwoBh6fvdOgghkjh0U1A?
Thanks for all of your support!
Video
How did this recipe work out?
Leave a Reply