Deviled Eggs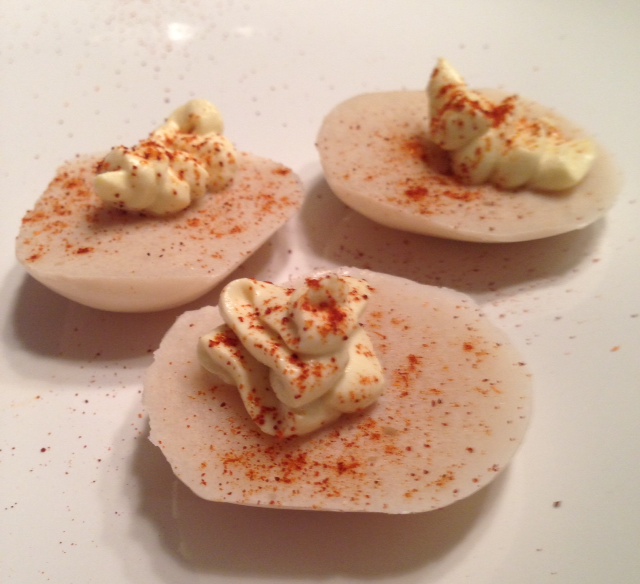 An Easter staple here in my household, it's been nearly six years since I've had a deviled egg.  I miss those little suckers!  No, of course they don't look EXACLTY like the real thing (not so devilish...), they sure do taste pretty darn close.  There are a few secrets we plant people have when it comes to making something taste like "just how we remember" and when cooking eggs - never forget your black salt (Kala Namak). 
Ingredients
Setup
2 C cashew milk or coconut milk (I like the brand, So Delicious)
1 ½ TBS agar agar powder
1 tsp black salt (Kala Namak)
1 14 oz can of cannellini beans (drained and rinsed)
¼ C vegan mayonnaise (Veganaise is the most authentic)
1 TBS olive oil
1 ½ TBS nutritional yeast
1 TBS yellow mustard
1 ½ tsp black salt
½ tsp onion powder
¼ tsp turmeric
Pinch of paprika (for garnish)
Directions
In a small sauce pan, add the milk, agar agar and  black salt and bring to a boil.  Carefully pour the liquid into an egg mold pan and allow to chill for 30 minutes.  This will be your "egg whites". 
In a food processor add the beans through the turmeric. Allow to mix until you get it to a smooth consistency.  You'll need to scrape down the sides of the food processor a couple of times as well. 
If you don't have a pastry bag (I sure don't), scoop the mixture into a Ziploc bag, seal it up and place in refrigerator to chill while the egg whites are also setting up.  When the eggs have become firm, take a small spoon and carefully hollow out a little bit where you will fill it back up with the "yolk".*  Cut a very small corner off of the Ziploc bag and squeeze the yolk mixture into the hollowed part of the egg. Garnish with a sprinkle of paprika and enjoy!
*Hollowing out a part of the egg is optional; it's easy enough to just decoratively squeeze out the yolk from the Ziploc bag on to the flat surface of your egg white. 
Video
How did this recipe work out?
Leave a Reply