Easy Black Bean Sliders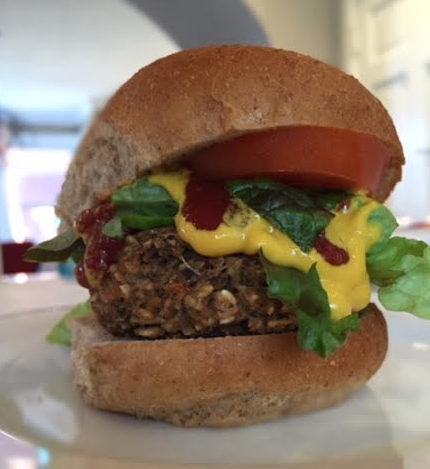 By using a bag of frozen veggies, condiments and spices I'll bet you use have laying around your kitch anyway, you can whip up these Easy Black Bean Burgers in a flash.  A great way to introduce your friends to "vegan food"....
Ingredients
Setup
1 tablespoon of ground flaxseed
3 tablespoons of water
8 oz bag of frozen veggies (any combination of vegetables will work)
2 15 oz can of black beans, drained and rinsed
1 TBS ketchup
2TBS mustard (any kind)
1 tsp onion powder
1tsp garlic powder
½ tsp chili powder
1 cup whole grain rolled oats
salt/pepper to taste
Directions
Preheat your oven to 350-F.
In a small bowl, combine the flax and water. Stir and allow to sit for 10 minutes, this will become your "egg" that will help bind your burger.
Defrost the vegetables and set aside.
Place the beans, condiments and spices in to a food processor and pulse a few times until well integrated, but not pureed. Add in the vegetables and the oats. Pulse 2-3 more times. Finally add in the flax egg and pulse a few more times until everything is well mixed, but still keeping some black beans and vegetables in tact. Form your burgers (or sliders) and place them on a parchment paper lined baking sheet. Bake for 20 minutes, flip and continue to bake for another 17. If you are making sliders (small burgers), cook for 5 minutes less on each side.
TIP:
No need to buy oat flour! Dry blend oats in a blender until a flour-like consistency is reached.
Sneak some greens in by chopping up baby spinach and mixing in with your burgers.
How did this recipe work out?
Posted by
Sa
on
Jan 6th, 2016
Having never made anything like this before, I wasn't sure how they would turn out. While my sister hated it, my husband loves it and has had me make this recipe several more times. I'd trust his palate more, so I'd call this recipe an easy success! It really helps keep costs low, too, while eating healthy, since there aren't a lot of components.
Leave a Reply