Golden Beet and Grapefruit Salad with White Beans and Avocado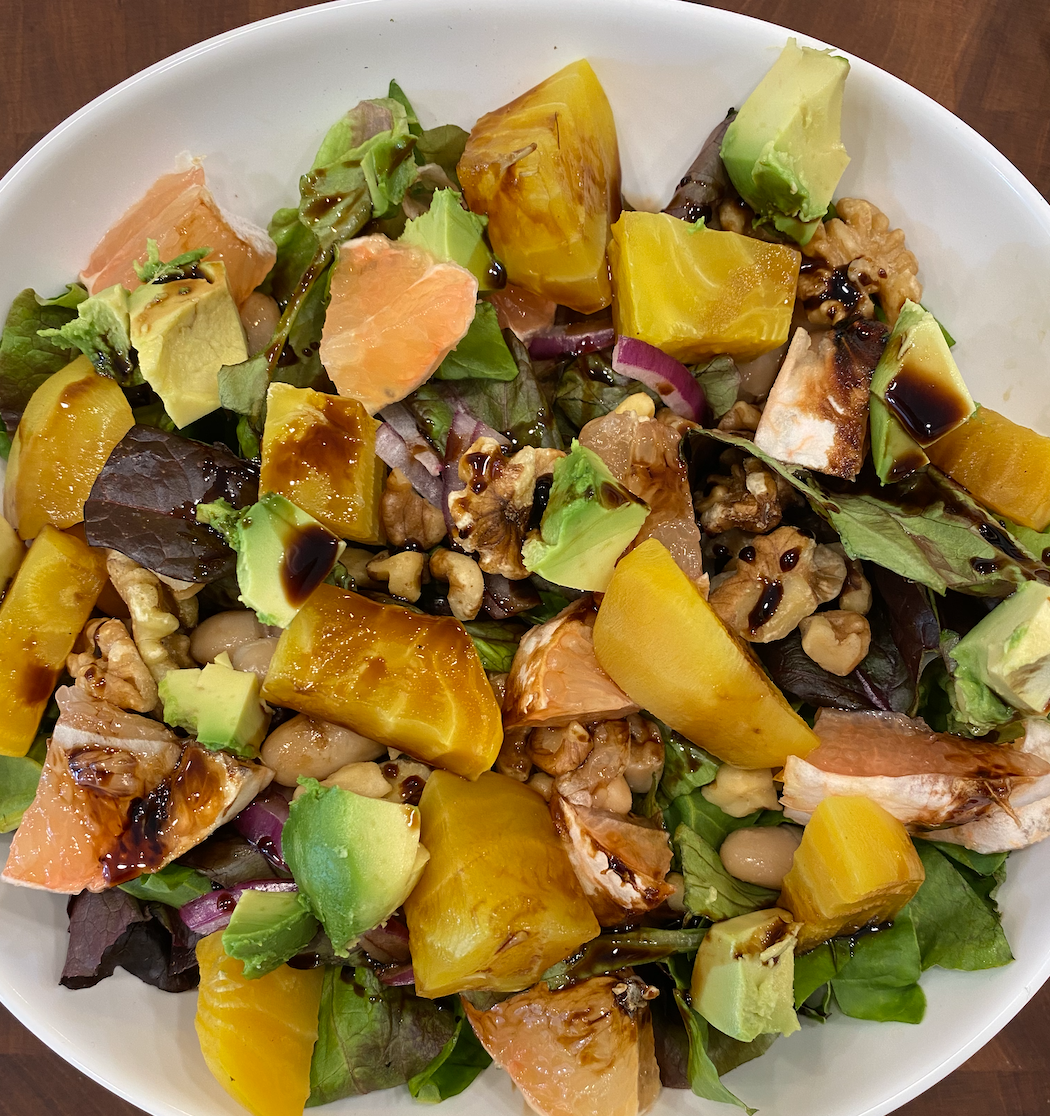 Hitting all the flavors and textures, this salad is easily a full meal.
Ingredients
Setup
2 raw golden or Chioggia beets, peeled and quartered
1 grapefruit, peeled and roughly chopped
3/4 cup cooked cannellini beans
1/3 cup walnuts, chopped
1/4 red onion, thinly sliced
1/2 avocado, cubed
2 cups of light greens, such as Boston bibb
3 tablespoons of reduced balsamic vinegar*
Directions
Peel and quarter beets, then steam in a steamer insert set over boiling water covered, until tender when pierced with a fork, 12 to 15 minutes. Remove from heat and transfer to a bowl to let cool.
Over greens, add the beets, grapefruit sections, beans, walnuts, onion and avocado. Drizzle the balsamic over the salad.
*To make the reduction, simply add balsamic vinegar to a sauce pan and simmer until reduced to desired thickness. This is a light salad, I recommend a reducing just a little bit - look for some of the vinegar to adhere to the back of a spoon, but still be quite translucent. You can store any extra in a sealed container in the fridge for months.
___
Check out our latest classes: https://www.cpbl-stl.com/classes
To purchase some of the kitchen tools I use here https://tinyurl.com/yyacj2cg
To subscribe to the weekly Plant-based Quick Cooking Show: https://www.youtube.com/channel/UCExWwoBh6fvdOgghkjh0U1A?
Thanks for all of your support!
Video
How did this recipe work out?
Leave a Reply