Hemp Heart Ranch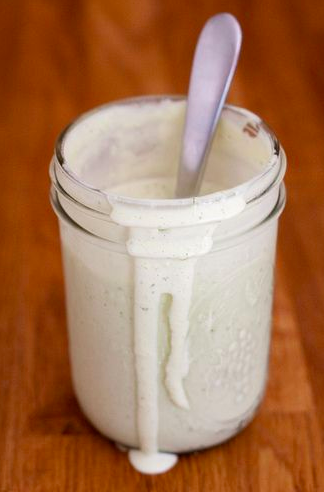 Growing up we dipped everything in the coveted Hidden Valley Ranch. So, when I transitioned to a fully plant-based diet, I knew I'd need a substitute for this little addiction too. Enter the Hemp Heart Ranch. There are a lot of dairy-free ranch recipes out there, but I wanted the thick creaminess without using oil (think, fat is good, but not from oil). So I played and played and landed on this and I hope you like it as much as I do. Happy dipping or drizzling...!
Ingredients
Setup
1/2 cup hemp hearts
1 large garlic clove
1 tablespoon of nutritional yeast flakes
1 tablespoon tahini paste
juice of 1/2 lemon
1/4 teaspoon sea salt
1/2 cup of water
1 teaspoon fresh dill (or 1/2 teaspoon dried)
Directions
To a blender, add the hemp hearts*, garlic clove, nutritional yeast, tahini, lemon and sea salt. Begin to blend slowly and drizzle in the water. Blend on high until creamy. Add in the dill and pulse just a couple of times.
Transfer to a sealable container and chill. Will keep for a week.
Makes nearly one cup.
*With hemp hearts, the shell of the hemp seed has been removed making the seeds easier to digest. They have a nutty flavor and are soft to the touch. Each serving provides 10g of protein, 2.5g of Omega-3 fatty acids and 8.5 of Omega-6 fatty acids.
How did this recipe work out?
Posted by
Nancy
on
Aug 5th, 2019
Very nice! I needed a bit more tang, so added a dash ACV. A keeper for sure!
Leave a Reply