Italian White Bean and Cabbage Soup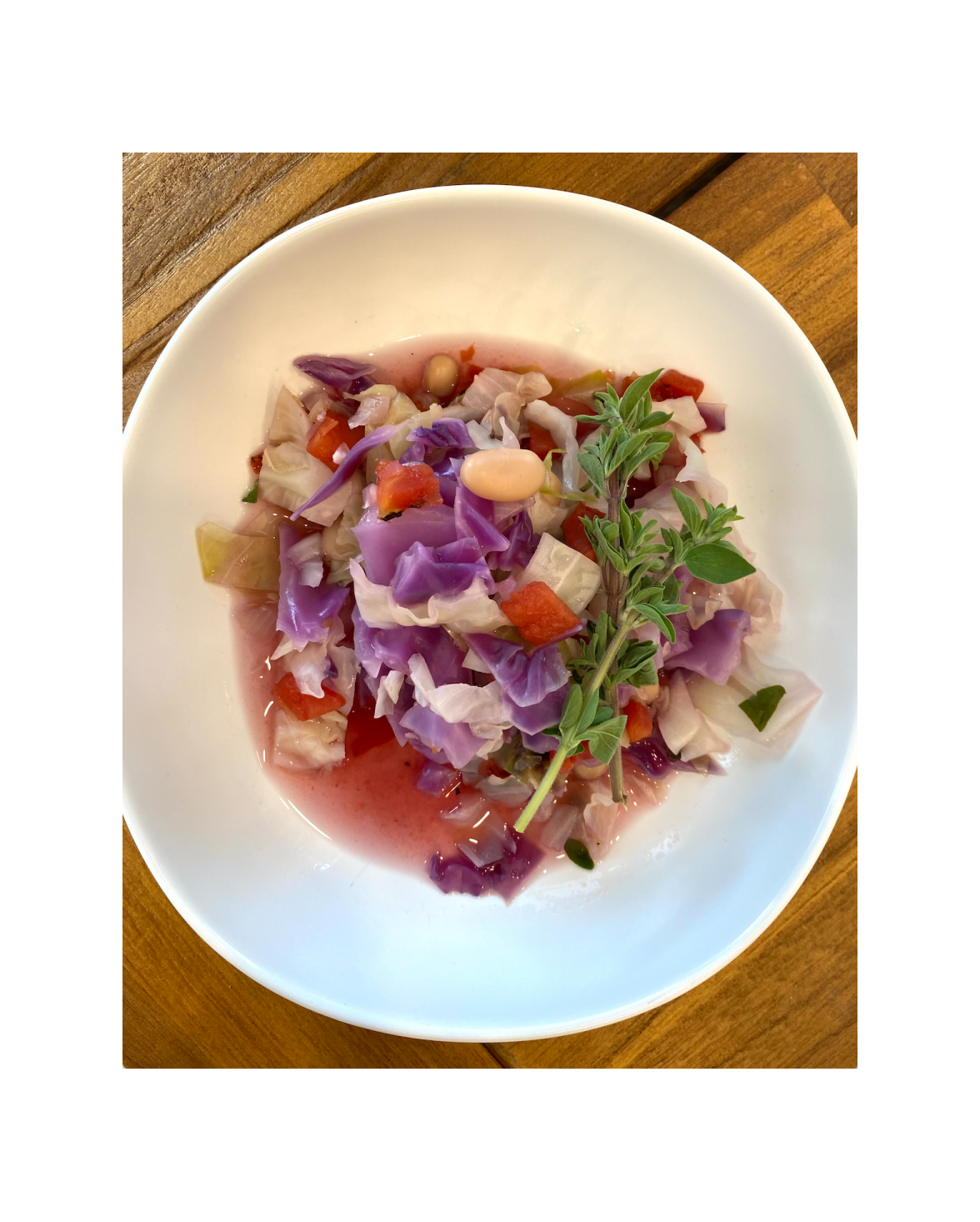 Sure, cabbage soup is great for St. Patrick's Day, but it's also perfect for any day of the year. This healing and nutrient dense, nearly calorie void soup, is my new go-to!
Ingredients
Setup
1 large yellow onion, chopped
4 cloves of garlic, minced
1 large head of green or purple cabbage.
10 cups vegetable broth
1 1/2 cups diced tomatoes / or / 1 14 oz can of diced tomatoes, juices drained
1 1/2  (14 ounces) cups cooked cannellini beans
fresh oregano
Directions
Heat a large pot or Dutch oven and add the chopped onion. Bring heat down to medium-high. Continually stir and add a teaspoon of water as needed if the onion begins to stick.  Optionally, add a pinch of salt. After about 5-6 minutes add the garlic. Once fragrant (45-60 seconds), add the chopped cabbage and stir. Add in the  vegetable broth, and bring to a boil, then down to a simmer and cook 20 minutes.
While the soup is cooking, remove the oregano leave from 4 stems and chop. Add to the soup.
Add the drained cannellini beans and tomatoes and stir. When warmed through, serve and garnish with more oregano if you wish.
________
Some things happening at the Center for Plant-based Living:
1. Check out our latest classes: https://www.cpbl-stl.com/classes
2. To purchase some of the kitchen tools I use https://tinyurl.com/yyacj2cg
3. To subscribe to the weekly Plant-based Quick Cooking Show: https://www.youtube.com/channel/UCExWwoBh6fvdOgghkjh0U1A?
COMING SOON – Virtual Membership.
Thank you for your continued support!
Video
How did this recipe work out?
Leave a Reply