Jalapeno and Pepadew Bean Slider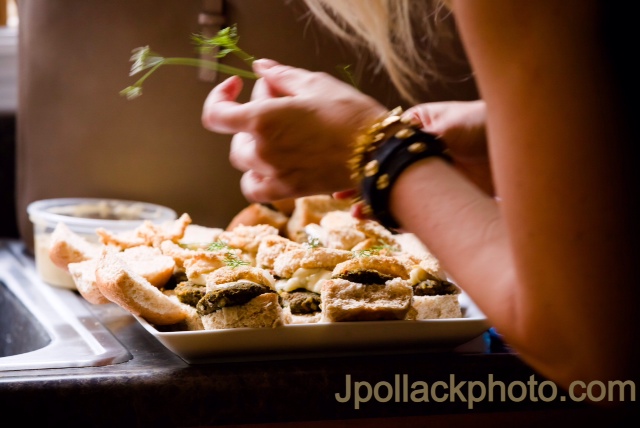 It's spicy!  No, it's sweet!  Sweet! Spicy!! SWEET! SPICY! 
Using jalapenos and pepadews, this bean slider will have your senses enjoying flavors all over the map.  You control the heat and the sweet in this baby burger! 
Ingredients
Setup
8 oz. mushrooms, minced
1 yellow onion, minced
1 jalapeno pepper, deseeded and minced
3 cloves garlic, minced
2 carrots, shredded and chopped
2 C baby spinach, chopped
1 C walnuts, diced finely
1.5 C (or one 14 oz can) black beans
1.5 C (or one 14 oz can) garbanzo beans
3-4 pepadews, diced
3/4 C oat flour
1 TBS Old Bay Seasoning
sea salt, pinch
ground black pepper, pinch
whole grain slider buns
Directions
Over medium to high heat, dry roast the mushrooms in a large skillet.  You'll need to stir often and soon the juices come out and the mushrooms will wilt.  Transfer to a large mixing bowl (seriously, the biggest bowl you have, all the ingredients are going in here and you'll need the room).  Deglaze the pan with a few tablespoons of water, add some fresh water or vegetable broth and add in the onion and jalapeno.  Saute until the onion is nearly translucent and add in the garlic.  Continue to cook for another minute and transfer this the big bowl, too. 
Run the carrots through the food processor to shred, give them a rough chop and add to bowl.  Change out the blade to the S-blade and chop spinach, toss in bowl.  Next, do the same thing with the walnuts, toss in bowl.  (This is soooooo much easier than chopping it all).  In a few batches, pulse the beans in the food processor - don't puree them, you'll want a few intact.  Add to bowl.
Dice up the pepadews and add to bowl.  Now, the fun begins! With your hands, begin to mix the ingredients.  A little at a time, shake in the oat flour to desired consistency (until you find the mix not sticking to your hands). Now, add in the seasoning, salt/pep to taste and place the mixture in the refrigerator for at least one hour.  This is the secret to getting the sliders sticking together. 
Pick off a few TBS of the mixture, roll in your hands and slightly press until you get a small patty. Place on parchment paper and bake for 25 minutes, flipping once halfway through. 
NOTES:
I used old fashioned rolled oats to make the oat flour. In a blender, simply blend the oats until you reach a fine, flour-like consistency. 
I also used Trader Joe's 21 Seasoning for added flavor.
How did this recipe work out?
Leave a Reply