King Oyster Mushroom Scallops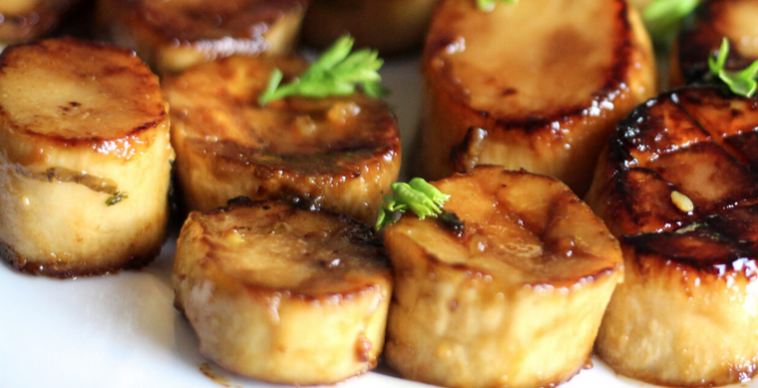 Did someone say scallops??
Forget the fish and get all the awesome health benefits of these big 'shrooms instead. The broth infuses in, and the searing at the end adds the bit of crispiness that scallops are knows for. These are fantastic!
Ingredients
Setup
Scallops
2 cups vegetable broth

1  cup coconut aminos
1 teaspoon white miso paste

4 slices fresh ginger root
6-8 garlic cloves, cut in half
1 large piece of nori, shredded by hand
6 oyster mushrooms, cut to 3/4" thickness rounds

Directions
Whisk the marinade ingredients together and transfer to a sealable bag.
Slice the mushrooms to about 1 ½" thickness, not  using either ends. Score the surface of each cut mushroom cross-wise. Add the mushrooms to the marinade in the bag  and allow to chill in fridge for a few hours. I sometimes allow to marinate overnight.

Heat a skillet to a high heat, add the mushrooms – do not crowd them, you'll have to work in batches – add a little bit of  broth. Bring the heat down to a medium-high-heat and as the mushrooms sear and caramelize a bit,  you can transfer those to a serving dish. Add broth as necessary to skillet as to not burn. Serve right away or keep warm in oven.
_
Why mushrooms for health?
This is an incredibly expansive topic and we are still learning so much. Mushrooms were actually pulled from the plant category and placed in their own fungi kingdom category just 50 years ago! Although their category is new, clearly this amazing fungus is ancient and the research on health benefits is vast.
There is research indicating that this fabulous fungus can clear inflammation, reduce the side effects of chemotherapy, lower PSA levels, slow to halt cancer progression, alleviate depression,  reeduc the risk of cognitive impairment,
Here is some research from Dr. Michael Greger.
Dr. Rhonda Patrick has some incredible research on her website.

________
Do you know about our streaming membership?  We'd love to have you!
As a member you get:
Complete library of all past virtual classes - stream them whenever you'd like!
Free access to upcoming virtual classes
Library of easy and quick recipes: 100 and growing
Access to private Facebook group
Monthly accountability check-in and support group Zoom call with Caryn
Quarterly "Ask the Doc" call with Dr. Jim Loomis, our Medical Director
20% off all virtual multi-week programming
A community of support
To learn more, please visit us here.
Video
How did this recipe work out?
Posted by
Feeding It
on
Mar 19th, 2021
I made this as an appetizer on a bed of garlic butter sautéed spinach. It was YUMMMMMMMM!!!
Posted by
caryn
on
Mar 31st, 2021
Glad you enjoyed!!!
Leave a Reply