Patriotic Quinoa, Peppers and Potatoes
Happy Independence Day! Now, free up some time and offer this three-in-one dish to your party goers.  Put three staples together: Quinoa, Peppers and Potatoes, add a few spices and VIOLA!, you have a basic, yet, incredibly healthy, plant-based dish everyone will love.  And looky here - it's even Red, White and Blue(ish)!
Ingredients
Setup
1 C pearled (white) quinoa (rinsed)
2-3 purple potatoes (washed)
2 red bell peppers (washed)
2 C + 1/4 C vegetable broth
Olive oil (optional)
2 garlic cloves, minced
1 sweet yellow onion, diced
1" fresh ginger root, minced
1 tsp ground cumin
1/2 tsp ground coriander
sea salt to taste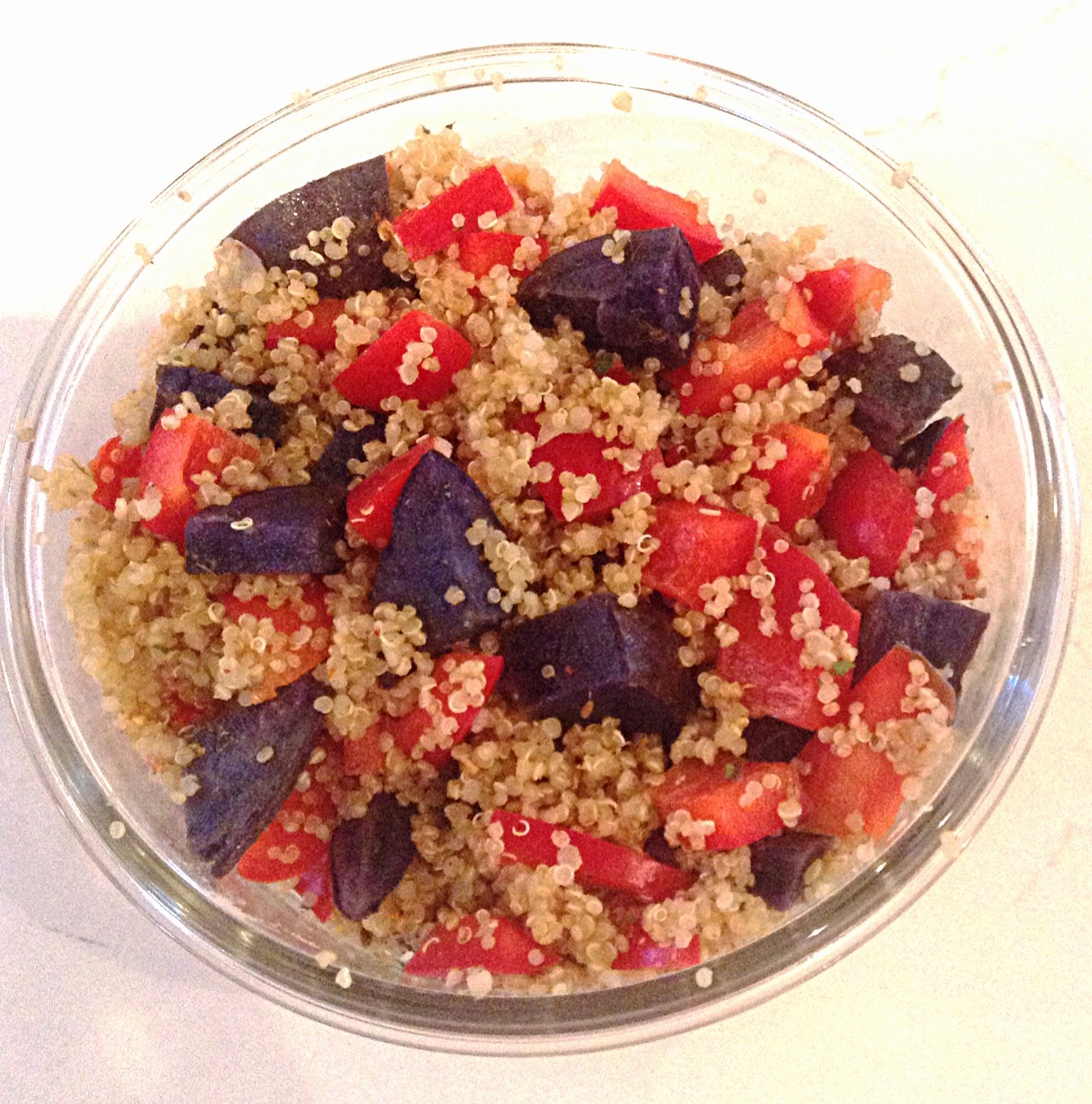 Directions
Preheat oven to 375 F and cube potatoes into 1/2" pieces.  Toss in olive oil (optional) or a little broth and lightly salt.  Transfer to a baking pan and allow to bake until just barely tender - about 25 minutes, tossing a few times during baking. 
Over medium to high heat, add a little olive oil (or broth) to a pot.  Add in the yellow onion.  Saute until it begins to become transparent.  Add in the garlic and the ginger root.  Saute for about 30 seconds. Add in the spices and continue to stir for another 30 seconds.  Add in the quinoa and stir until the quinoa is coated in the mixture.  Add in the 2 C broth, bring to a boil and down to a simmer.  Cover pot and stir every 4-5 minutes, watching the liquid level.  Add more broth if necessary.  Once the quinoa is transparent and tender to taste (about 12-15 minutes), remove from heat. 
Dice red bell peppers into 1/2" pieces.
Toss all ingredients and either serve immediately or chill in refrigerator.  Add a tsp of fresh lemon upon serving if you allow to chill before serving as it will "wake up" the flavors.
Video
How did this recipe work out?
Posted by
Kristan
on
Oct 13th, 2014
My kids and I loved this recipe at the WG farmers market! Thanks for coming out and sharing!
Leave a Reply