Pineapple Teriyaki Tempeh Sliders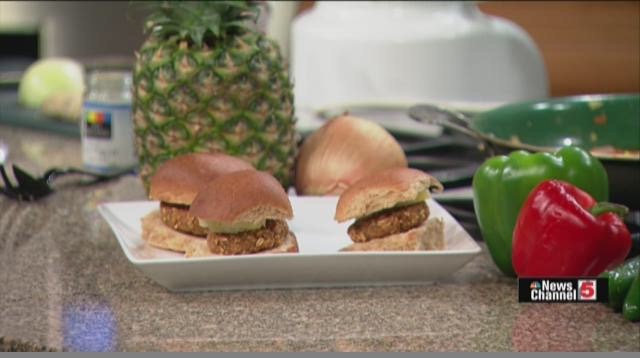 The saltiness of the teriyaki and the sweetness of that pineapple slice is the perfect combination!  The tempeh has soaked up all the flavors and using two binders of oats and flax will be sure to keep this little guy nice and dense; no crumbles here!
Ingredients
Setup
2 8oz packages of tempeh
1 C quick oats
2 TBS ground flax meal
1/2 yellow onion, diced small
2 cloves garlic, minced
1 red bell pepper, diced small
1 green bell pepper, diced small
1 jalapeno pepper, de-seeded, diced small
3/4 C prepared teriyaki sauce
fresh pineapple
vegan slider buns
Directions
Cut open the tempeh packages and break apart with your fingers. Process in batches in a food processor and pulse until it is the consistency of ground beef. Transfer to a large mixing bowl. Add in the quick oats and the flax. To a hot skillet, add a little water and begin to salute the the onion. Once brown, add in the peppers and continue to cook for another 3 minutes. (watch the water as it will evaporate and you will have to add a little bit more) Once soft (but not mushy), add in the garlic, allow to cook for only another 30 seconds and transfer the mixture to the tempeh bowl. Toss and pour in the teriyaki. Using your hands, really massage the mixture well until the teriyaki is soaked into the tempeh and oats. You can add more teriyaki if you like. Cover the bowl and refrigerate for at least an hour (overnight is fine).
Preheat oven to 350 and begin to patty up the slider to the size of your bun. The thicker they are, the longer they will take to cook, so keep them about 3/4" thick. Line a jellyroll pan with parchment paper (or lightly oil a baking pan) and bake sliders for 25 minutes, flipping once at the halfway point. Place slider on bun and top with a slice of pineapple.
Video
How did this recipe work out?
Leave a Reply