Plant-Powered Protein Bowl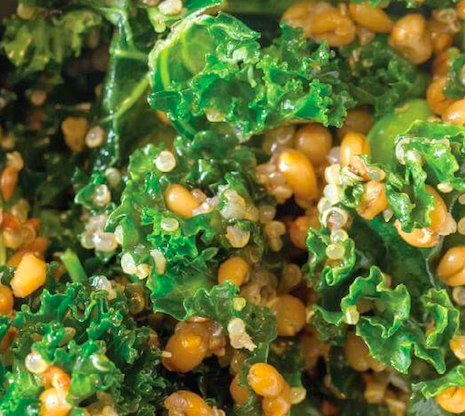 Lentils, beans and quinoa make up the protein trifecta of this power bowl. Depending on whether you divide it into two or four servings, this hearty meal dishes up 11-21 grams of protein per bowl.
Ingredients
Setup
2 large leaves of organic green kale
juice of 1 organic lemon
1 cup organic lentils, cooked
1 cup organic quinoa, cooked
1 cup organic, non-GMO soy, lupine, or any bean of your choice
3 tablespoons, low sodium tamari
2 tablespoons nutritional yeast flakes
pinch of ground pepper
Directions
Remove the stems from the kale: take one of the leaves and hold it by the stem with one hand and place the pointer or middle finger and thumb of your other hand around the stem, just above the leaves, pull your fingers along the stem, tearing the leaves off.
Tear the leaves into pieces and transfer to a mixing bowl, sprinkle in the lemon juice and mix with your hands (using a rough massage) for a minute.
Fold in the lentils, quinoa and beans. Add the tamari and nutritional yeast. Sprinkle with a pinch of pepper and serve.
Recipe and image courtesy of Naked Food Magazine
How did this recipe work out?
Leave a Reply