Roasted Brussels with Cashew Cream and Coconut Bacon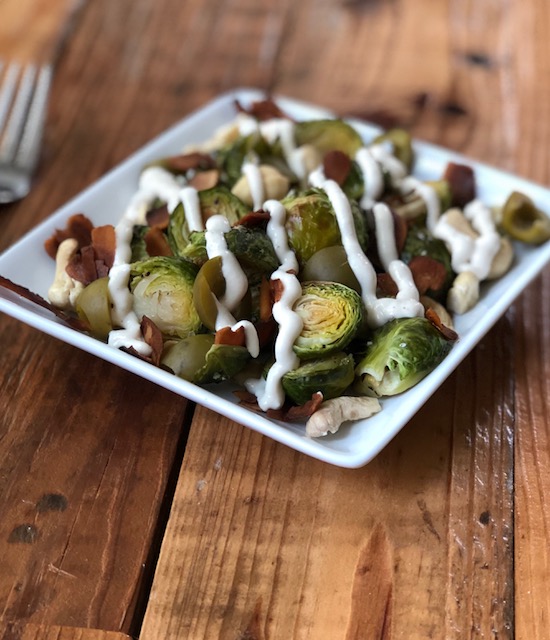 Tossed in a creamy cashew bath, these roasted Brussels really shine when paired with smoky coconut bacon and salty olives.
Ingredients
Setup
1 pound Brussels Sprouts, stem cut off and halved
1 tablespoon of balsamic vinegar
1 cup raw cashews, soaked for an hour
1/4 cup cashews, un soaked and roughly chopped
1 large clove of garlic
juice of 1/2 lemon
2 tablespoons apple cider vinegar
1 teaspoon Dijon mustard
1/2 cup (or more) water
heavy pinch of salt and fresh ground pepper
1/4 cup olives, roughly chopped (any type you like)
1/4 cup smoky coconut bacon
Directions
Pre-heat oven to 400-degrees F.
In a bowl, toss together the sprouts, balsamic, salt and pepper until well coated.
Spread the sprouts, cut side down, on to a parchment paper lined baking sheet and bake for 18-20 minutes or until you can put a fork in them.
While these are cooking, make your cashew cream. In a blender, add the soaked cashews, garlic, lemon, apple cider vinegar and Dijon. Begin to blend, drizzling in water to get things whirling and to the consistency you desire. Taste and adjust for taste and add a pinch of salt. Blend again for a few seconds.
Transfer the sprouts to a large bowl, add in the remaining 1/4 cup of cashews, olives and 1/4 cup of the cashew cream sauce. Mix well together. Add in 1/4 cup of coconut bacon, mix again and either serve right away or refrigerate for a few hours for the flavors to develop.
serves 6

How did this recipe work out?
Posted by
Gen
on
Nov 20th, 2017
I have been looking for a way to make Brussels sprouts taste good that didn't involve a lot of cheese. This recipe accomplished that goal. Loved it! I didn't use all of the cream, though, so not sure what else I can use it for or how long it will last. Overall, great recipe. Thanks, Stl Veg girl!!
Posted by
caryn
on
Nov 20th, 2017
So glad you liked it!
Leave a Reply