Simple Smashed Potato Nachos (air fryer option included)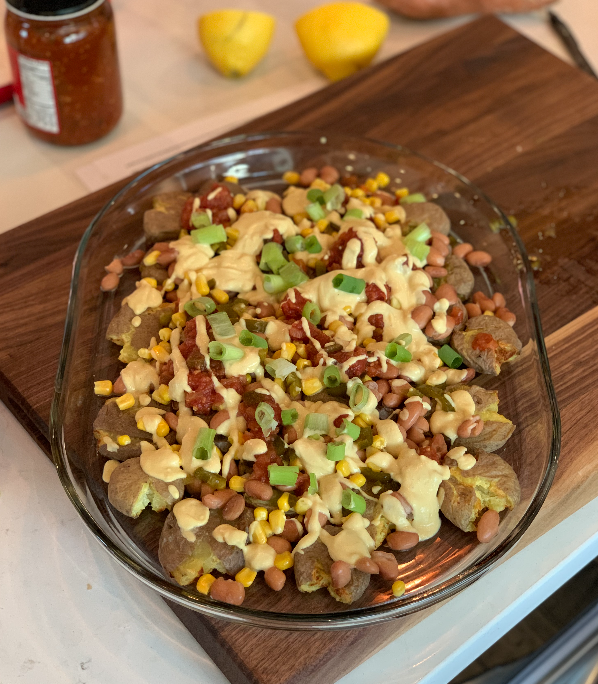 Who says you need tortilla chips to create great nachos?
Grab the kiddos (or use this as a stress reliever!) and smash a few potatoes, bake them up and smother them with your favorite nacho toppings. Top with the Best Cheesy Sauce, fire up Netflix and done!
Ingredients
Setup
1 1/2 lb baby potatoes
1 14 oz can pinto beans, drained and rinsed
1 cup frozen corn, thawed
1 jalapeno (or sweet bell pepper), diced
salsa
1 serving of the Best Cheesy Sauce
Directions
Preheat oven to 425 and line a baking sheet with parchment paper.
Fill a pot with water and add the potatoes. Bring the water to a boil and then begin your timer for 12-15 minutes. Test the potatoes (fork-ready) at 12 minutes. You don't want them too soft. If a fork easily slides in, remove the potatoes from the water and give them a quick dry. Transfer them to the baking pan and gently smash them. I use the can of pinto beans.
OVEN: Bake for 15-20 minutes, or until crispy brown.
AIR-FRYER: At 400 degrees, air fry for 12-15 minutes, or crispy until brown.
Place potatoes on a plate and add the beans, corn, pepper, salsa and drizzle with the Cheesy Sauce!
NOTE:
This recipe was created in the time of the COVID-19 breakout. Therefore recipes built now will reflect minimal ingredients.
Save time shopping!
Here are some tried and true kitchen wares that I really like!
How did this recipe work out?
Leave a Reply