Spicy Cruciferous Lentil Crunch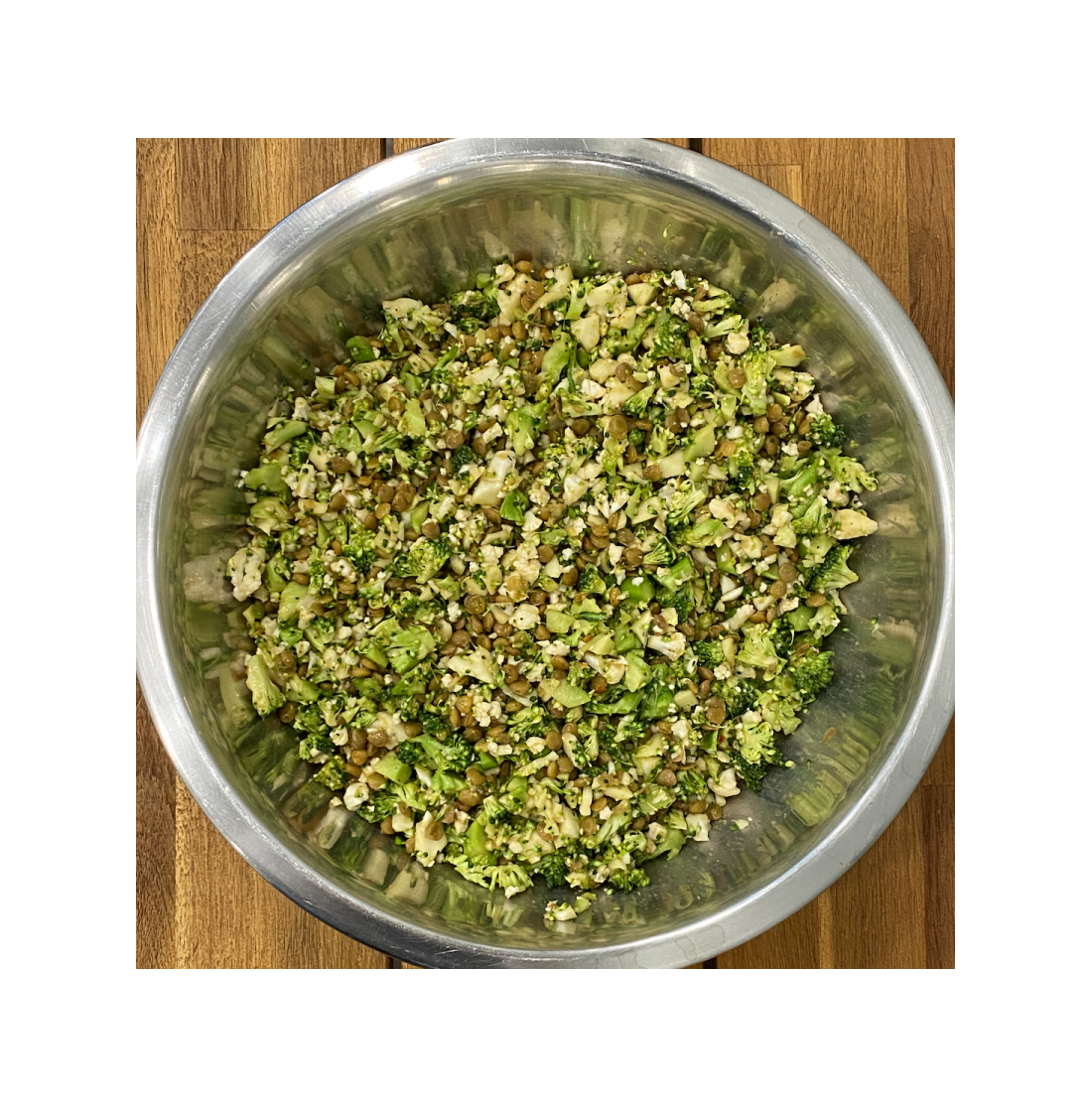 I suppose, as many people do, I can get in a culinary rut. Finding myself making the same-ish things over and over again. However, I sometimes don't even see it! That is until I'm inspired by someone else's recipe and that's what happened here. My good friend, Natasha, who is a plant-based chef, and owns Frida's here in St. Louis, (Can't find me? Check there.) sent me a picture of what she was making during one of our lengthy and always entertaining text marathons.
She used large florets of broccoli, I only changed things up by cutting them smaller and adding in cauliflower and crunchy lentils.
Have fun with this one! I really like her flavor in this, but if it's too spicy, change out the spiced vinegar for rice vinegar, or perhaps a floral champagne vinegar. Skip the Sambal and maybe add a tablespoon of citrus. It's up to you!
Thanks Natasha!
xo
Ingredients
Setup
1 head of broccoli, largely minced
1 head of cauliflower, largely minced
1 cup dried lentil, cooked
1 cup spiced white vinegar (I used this)
1/3 cup coconut aminos
1 tablespoon sambal oelek
salt + freshly ground pepper
Directions
Preheat oven to 425. Line a baking sheet with parchment paper.
Cut your broccoli and cauliflower. You're looking to mince it to about the same size as the cooked lentils.
Add dried lentils to a sauce pan + 3 cups of water. Bring to a boil and then down to a simmer and cook for 13 minutes. When the lentils are done, drain them and scatter them on the baking sheet.
Add a pinch of salt and a few turns of the pepper
Bake for 20 minutes, flipping as much as you can halfway through.
Allow to cool and add to the cut vegetables.
Mix the vinegar, aminos and Sambal Oelek in a bowl and pour over vegetables and lentils. Gently fold all ingredients together. Adjust for flavor. Cover and refrigerate for 2-4 hours to allow flavors to develop.
__________
Some things happening at the Center for Plant-based Living:
1. Check out our latest classes: https://www.cpbl-stl.com/classes
2. To purchase some of the kitchen tools I use https://tinyurl.com/yyacj2cg
3. To subscribe to the weekly Plant-based Quick Cooking Show: https://www.youtube.com/channel/UCExWwoBh6fvdOgghkjh0U1A?
COMING SOON – Virtual Membership.
Thank you for your continued support!
How did this recipe work out?
Leave a Reply