Sweet Potato Tempeh Sushi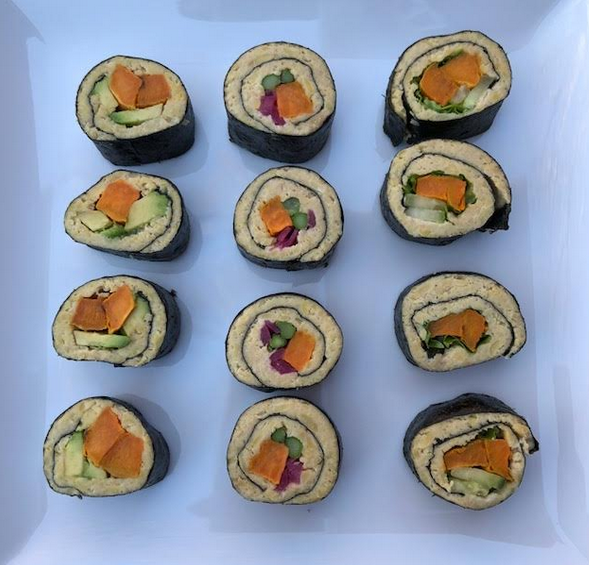 A new take on veg sushi, this roll swaps out the vast amount of white rice you'd usually easily eat (do you just pop sushi in your mouth like me??) and subs in tempeh which is a fabulously low processed, nutrient dense fermented dense baby soybean cake. Using sweet potatoes and other vegetable centers, it's easy to roll these up and fill a platter to feed a party.
Ingredients
Setup
1 sweet potato    
1 8 oz. package of tempeh
1 tablespoon tahini paste
1 tablespoon yellow miso paste
1 tablespoon rice vinegar
3/4 tablespoon date paste or other liquid sweetener
1/2 tablespoon tamari
1 1/2 teaspoon onion powder
vegetables of choice: slivered carrots, julienned bell peppers, sprouts, etc.
nori sheets
Directions
Preheat oven to 424-degrees.
Line a baking pan with parchment paper. Peel and cut the potato as if you were making fries. Bake fries for 20 minutes, remove from oven and allow to cool.

Break up the tempeh into large pieces and steam for 10 minutes.

To a food processor, add the tempeh and all the ingredients through the onion powder. Give it a few good pulses, just so all the ingredients are well mixed and there are no large tempeh chunks left.

Transfer tempeh to a bowl and set aside. Fill a small ramekin of cold water and set it close to your work surface.

On a work surface, lay down a bamboo sushi roller* and place one sheet of nori on top and begin to spread the tempeh on it thinly with your fingers. When your fingers begin to stick to it, dip them in the cold water. Leave about 1/4" of the nori showing at the far end of you (you'll be rolling toward it).

Place about 2-3 rows of vegetables of your choice horizontally on top of the tempeh on the edge closest to you.

Using the bamboo mat, gently lift and roll the mat up, over and around, creating a roll. Gently squeeze the roll. Back the mat off, scoot the roll down toward you and repeat until you reach the top. Use the water to seal the nori shut. Place the roll seam side down and with a very sharp knife gently cut the roll first in half and then each half, in half again.

Sprinkle with sesame seeds and serve with wasabi and pickled ginger.


*You'll want to cover the mat with plastic wrap as to not leave marks, have it stick to the roll or dirty it (it will be impossible to clean). I simply slid mine into a gallon size Ziploc bag that I could easily wash after I was finished. Be sure to leave it open in one corner so that air can escape and you'll get a truly flat surface.

Makes 2 large full rolls.
How did this recipe work out?
Leave a Reply