Zucchini Sliders with Vegan Mayo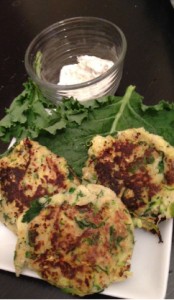 Move over crab cakes, these zucchini cakes have moved in and taken over. 
Ingredients
Setup
3 large zucchini, shredded
1/2 C silken tofu, pureed
1 bunch of scallions, thinly sliced
1 C bread crumbs
2 garlic cloves, minced
1/2 C chopped parsley
2 TBS Italian seasoning (I like Trader Joe's 21 Salute)
salt/pepper to taste
oil as needed for frying
Directions
Lightly salt the zucchini and set aside in a colander for 30 minutes to extract as much water as possible.  In a large bowl, mix the tofu through the seasoning.  Rinse the salt off of the squash and quickly towel dry.  Mix the zucchini into the batter, salt/pepper for taste.  Unless using a non-stick pan and over med-high heat, lightly oil a pan and begin forming sliders.  Saute the sliders and continue flipping until golden brown on both sides.  Serve hot with herbed mayo or a salsa verde over a bed of greens.
Herbed Mayo:
Mix vegan mayo with Italian seasoning to taste.  Allow to chill for 30 minutes before serving.
How did this recipe work out?
Leave a Reply