Cauliflower Rice Sushi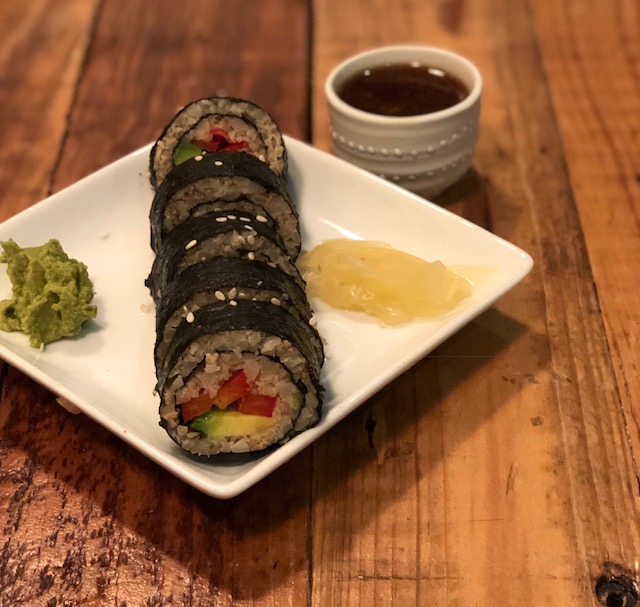 I love everything about veg sushi, except that I'm addicted to it. I'm so classy that I pick it up with my fingers and pop it like candy. In an effort to keep up my less than mindful behavior, yet not feel so weighted down by the mass amounts of rice I've inhaled in one sushi setting, I have swapped out the traditional rice for cauliflower rice, punched it up with a little flavor and viola! you have a highly nutritious finger food!
Ingredients
Setup
RICE
8 oz bag of frozen cauliflower rice (or 1 head of cauliflower, minced rice)
1 tablespoon coconut aminos (or aminos of choice)
1 tablespoon rice wine vinegar
1 tablespoon water
SAUCE
4 cloves of garlic, minced
1" ginger, grated
3 tablespoons coconut aminos
1 tablespoon rice vinegar
1 tablespoon mirin
VEGETABLES OF CHOICE
avocado
carrots
red bell pepper
asparagus etc.
Nori seaweed sushi paper
Directions
In a pre-heated large skillet, add the cauliflower rice and cook for 8-10 minutes over med-high. Stir often. Whisk the aminos, water and vinegar in a small dish and set aside. Turn heat off and add to the cauliflower. Stir well and transfer cauliflower to a bowl and allow to cool. 
Whisk or blend all the sauce ingredients in a bowl and set aside.
Fill a small ramekin of cold water and set it close to you.

On a work surface, lay down a bamboo sushi roller and place one sheet of nori on top and begin to spread the cauliflower on it thinly with your fingers. When your fingers begin to stick to it, dip them in the cold water. Leave about 1/4" of the nori showing at the far end of you (you'll be rolling toward it).

Place about 2 rows of vegetables of your choice horizontally on top of the cauliflower on the edge closest to you. You may be able to place one more row of vegetables stacked on top of that as well.

Using the bamboo mat, gently lift and roll the mat up, over and around, creating a roll. Gently squeeze the roll. Back the mat off, scoot the roll down toward you and repeat until you reach the top. Use the water to seal the nori shut. The key here is to let the roll sit for about 10 minutes before you slice it. Place the roll seam side down and with a very sharp knife gently cut the roll first in half and then each half, in half again.
Garnish with sesame seeds, pickled ginger and wasabi.


How did this recipe work out?
Leave a Reply