Dessert Nachos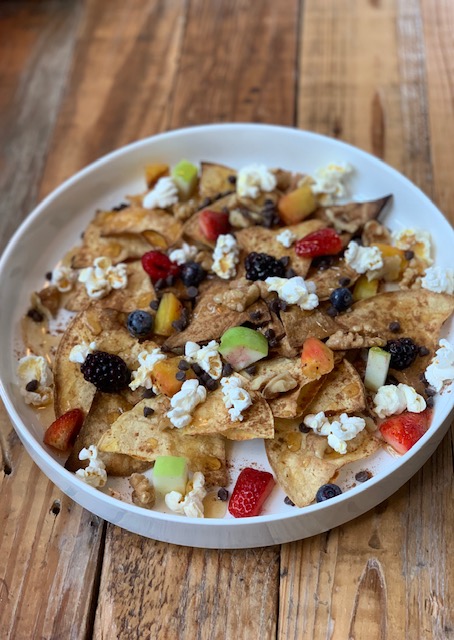 Nachos for dessert? Yes, please!
Make a single batch just for you or take it to a party for everyone to share! This is a crowd pleaser satisfying everyone's sweet tooth while offering some pretty solid nutrition, too!
Ingredients
Setup
1/4 cup Sweet Potato Glaze
6-8 corn tortillas, cut into 6 triangles
2 teaspoons cinnamon, divided
1 1/2 cup mixed berries, roughly cut
1 apple, diced
juice of 1/2 lemon + 2 cups water
1 cup air popped popcorn
3/4 cup walnuts, roughly chopped
1/2 cup dairy-free mini chocolate chips (optional)
Directions
Preheat your oven to 425°.
Line a baking sheet with parchment paper. Place the cut tortillas (you'll be making a few batches) on to the baking sheet and set a timer for 8 minutes. Carefully watch the tortillas and as they begin to brown around the edges, pull them out of the oven; they will crisp up as they cool.
This is all about layering, so build these nachos any way you like. I typically take about one-half of the nachos and drizzle one half of the Sweet Potato Glaze and sprinkle with cinnamon (to make the seasoning stick). Top with one-half of the remaining ingredients and repeat. Every bite is then delicious!
How did this recipe work out?
Leave a Reply