Dreamy Cashew Cheese Sauce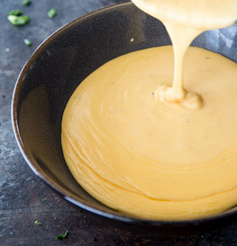 This is the silkiest, smoothest "cheese" sauce you'll find. It has that deep cheesy flavor from both the nutritional yeast and the miso that many other contenders are missing. You'll love it.
Ingredients
Setup
1 cup raw cashews
1 3/4 cup water
2/3 cup nutritional yeast flakes
1 tablespoon lemon juice (fresh squeezed)
3/4 tablespoon yellow miso
1 teaspoon each of ground turmeric, garlic powder and onion powder
1/8 teaspoon each of sea salt and white pepper
Directions
To a high speed blender*, add the cashews, water and nutritional yeast. Blend until creamy. Transfer to a saucepan and add the remaining ingredients. Heat over low-medium heat whisking often. Serve warm over pasta, vegetables, a sweet potato, etc.
Will keep for 4-5 days sealed in a container in the fridge.
Makes 2 1/4 cups
Serves 4
*If you don't have a high speed blender, be sure to soak the cashews in water for at least one hour to get them soft.
How did this recipe work out?
Leave a Reply