Eggplant Manicotti with Tofu, Spinach and Basil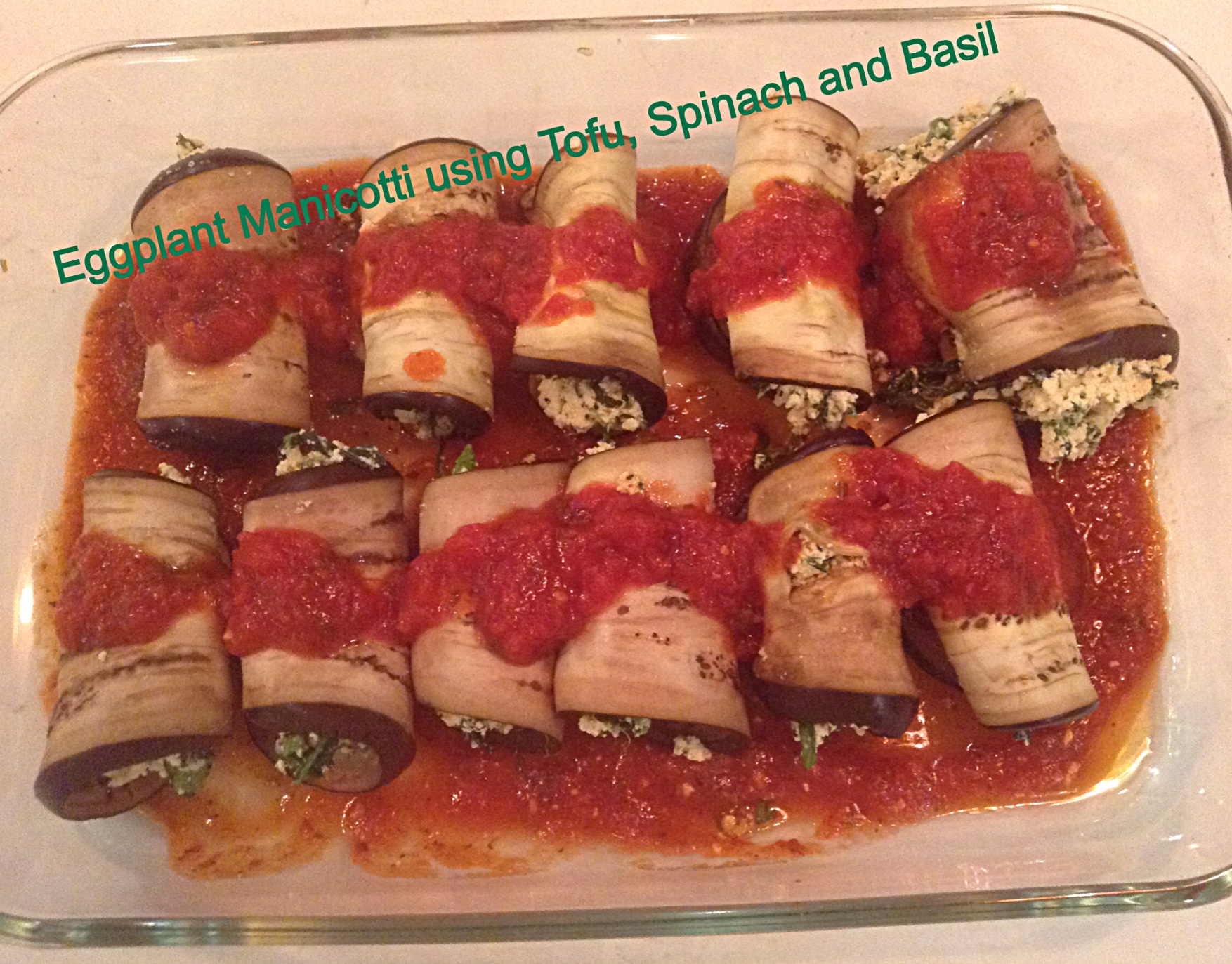 MAMA MIA! 
If your Italian vegan cousin (surely, there must be one and she has to be a cousin to someone...right?) comes to visit anytime soon, you might want to feed her this if she's feeling a little homesick. 
Ingredients
Setup
3 large eggplants
sea salt
spinach tofu ricotta (recipe follows)
2 C marinara sauce (divided)
RICOTTA:
1 block extra firm tofu, drained and pressed
3 C baby spinach, steamed and chopped
1/2 C nutritional yeast
1.5 TBS vegan mayo (I like Vegenaise)
1.5 tsp garlic powder
1.5 tsp onion powder
4 TBS fresh basil, minced (extra for garnish)
splash of white wine vinegar
pinch of sea salt and ground black pepper
Directions
In a large mixing bowl, crumble the tofu with your hands.  Break it down until all of the large chunks are broken down and leave some small pieces remaining.  Fold in the rest of your ingredients and set aside.

Preheat oven to 350.  Line a baking sheet with parchment paper.  Chop off the tops of the eggplants and cut them vertically into 1/8" wide strips.  Place the strips on the baking sheet and lightly sprinkle with sea salt and bake for 15 minutes. Flip and continue to bake for 7-10 minutes, you don't want them to start crisping up.

Place eggplant on a cool platter.  Spray a 9 X 11 Pyrex baking dish with non-stick spray and then spread the marinara sauce out evenly on the pan.  Scoop 1-1 1/2 TBS of the ricotta on to the wide end of the eggplant strip.  Slowly and gently roll the eggplant up and place in baking pan with the seam side facing down.  Repeat.  Top manicotti with the remaining cup of marinara cover and bake for 30-35 minutes. Remove from oven, sprinkle reserved basil on manicotti and return to oven for three minutes.


How did this recipe work out?
Leave a Reply