Everything Potato Salad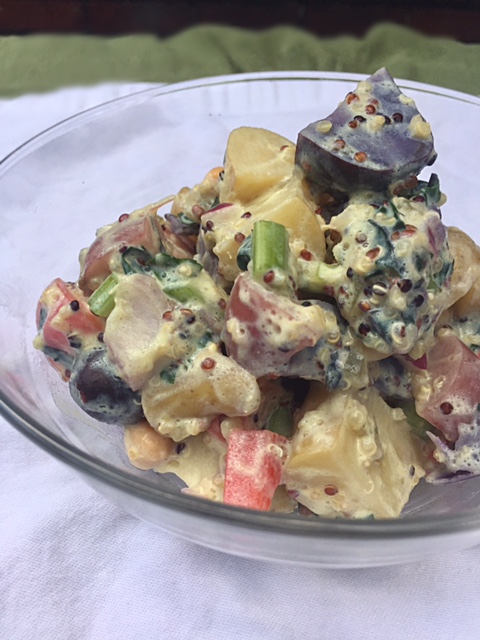 Potato salad is a family gathering staple. It says "summer". It says, "Americana".
It says boring.
It's true, we love potatoes, but this dish can be boring, and fatty, and just blah.
So, I've decided to take what we used to love so much and infuse it with flavors and textures we love. This Everything Potato Salad includes dark leafy greens, chickpeas, quinoa and a red bell pepper. You can also knock the heaviness and cholesterol laden mayo off the table, here, you'll use a silken tofu as the base, kick in a little mustard and garlic and viola! Your new potato salad.
Ingredients
Setup
1 1/2 pounds tricolor potatoes
1/2 cup quinoa
2-3 leaves of Swiss chard
1 red bell pepper
3/4 cup of cooked chickpeas, drained and rinsed
3 ribs of celery, cut into to 1/4" slivers
1/2 bunch of green onion, sliced thin
1/4 red onion, minced
1 12 ounce package of firm silken tofu
2-3 cloves of garlic
2 tablespoons yellow mustard
juice of 1/2 lemon
1 teaspoon fine sea salt
3 tablespoons dill relish
fresh ground pepper to taste
Directions
Place quinoa and 1 cup of water in a sauce pan. Bring to a boil and down to simmer. Cook for 12-15 minutes. Drain if need be and set aside to cool.
Wash the Swiss chard. Next, stack the leaves on top of each other and roll the up. Cut thin, but even slices starting at the top of the leaves all the way down to where the leaves end. This is similar to a julieanne cut. Next, place one cut down horizontally so that each ribbon is not so long. Here is a video to for more instruction.  Set greens aside.
Wash and cut the potatoes in to 1 or 1 1/2" bite sized pieces. Place in a large pot of cold water, bring to a boil, down to a simmer and allow to cook for 8 minutes. Add the greens to the potatoes and water allowing the for them to wilt a little. Cook for another few minutes or until fork ready. Drain and rinse with cool water to stop them from cooking. Once most of the water has drained, transfer to a large mixing bowl. Add the chickpeas, celery, green onion, and red onion. Toss gently.
Add the cooled quinoa and toss again.
Blend the tofu, garlic, mustard, lemon and salt until creamy. Transfer to a bowl and fold in the relish. Pour over potato mixture, fold all ingredients together, add the pepper and taste. Adjust as you'd like.
Cover and chill in fridge for at least an over to overnight before serving allowing the flavors to develop.
This is a great one-pot dish to bring to any party! Feel free to add your summer herbs in in as that will only enhance the flavors even more.
Makes 8 cups.
Will keep in the fridge for 3 days.
How did this recipe work out?
Leave a Reply