Harvest Blend Cauliflower Rice Stuffed Acorn Squash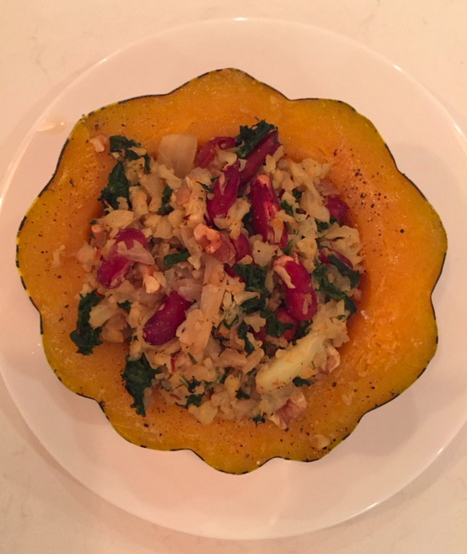 This perfectly festive dish will complete your holiday table!
Once you start eating out of squash bowls, you know the winter months are upon us. However, just because the there's a chill in the air, doesn't mean we need to add some natural insulation... We're keeping the calories and fat low on this somewhat traditional dish by swapping out oil for veg broth and subbing the rice for cauliflower rice. These little edible bowls are packed with layers of flavors and if you can find acorn squash all year round, I'll bet it will be your next favorite year-round go-to meal.
Ingredients
Setup
1 acorn squash, cut in half
1/2 head of cauliflower
1 C vegetable broth
1/2 yellow onion
2 cloves garlic, minced
Large handful of kale, diced small
1 C cooked dark kidney beans
1 tablespoon fresh rosemary, roughly chopped
1/2 tablespoon, fresh thyme
1/2 tablespoon fresh sage, roughly chopped
pinch sea salt and fresh ground pepper
2 tablespoons nutritional yeast
1/2 cup walnuts, chopped small
2 tablespoons dried cranberries, chopped (optional)
Directions
Preheat your oven to 350-F.
Cut the acorn squash in half and scoop out the seeds and any easily removable remaining flesh. In a glass or ceramic baking dish, add just enough water so that it covers the bottom of the dish and place both halves of the squash, cut side down on the water. Bake for 35-40 minutes.
Add the cauliflower to the food processor and pulse several times until you achieve the consistency of rice. Don't over fill the container, you may have to do this in a few batches. Place the cauliflower in a large mixing bowl and set aside.
In a large skillet over medium-high heat, add a few tablespoons of broth and allow it to heat up. Add the diced onion and a pinch of salt. Allow those to become translucent and after about 3-4 minutes add in the minced garlic. Add a few more tablespoons of the broth if you need to and continue to stir for 30-45 seconds.Transfer the bowl of cauliflower rice to the skillet and mix well. Keep adding broth a few tablespoons at a time as it evaporates. With the back of a spatula, press the mixture down and allow it to cook and even get barely crispy. Stir and repeat until the cauliflower begins get get a little golden.
Toss in the kale and mix well. You'll want that to wilt down. Next add in the kidney beans and stir. Add the herbs to the skillet and incorporate well. Finally, add in the nutritional yeast and give it a final stir.
Empty the skillet of ingredients back into the mixing bowl and fold in the walnuts and cranberries (if using).
When the squashes are finished cooking, turn them over the in the baking dish and fill them with the cauliflower rice mixture. Place them back into the over for 10 minutes. Serve immediately.
Video
How did this recipe work out?
Leave a Reply