Home Run Veg Chili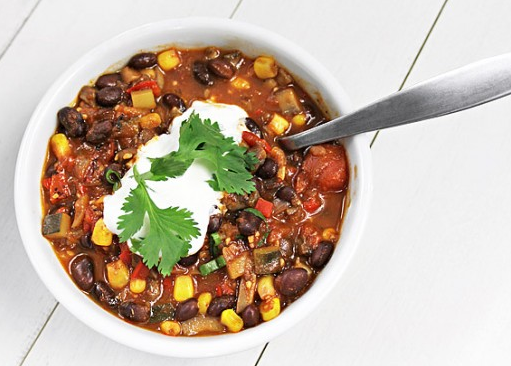 I made up this chili when our baseball Cardinals were in the playoffs and the usual summer baseball fare just wasn't cutting it anymore as the weather started to change and in those seats we needed something to keep us warm.  It was a home run...
Ingredients
Setup
3C + ¼ C vegetable broth
2 carrots chopped
1 yellow onion chopped
2 stalks of celery chopped
2 bell peppers chopped
2 cups of mushrooms, coarsely chopped
1 jalapeno pepper seeded and minced
3 cloves of garlic, minced
2 tbs chili powder
2 tbs cumin powder
3 oz  tomato paste
2 14 oz cans of diced tomatoes
1 can kidney beans
1 can garbanzo beans
1 cup frozen corn
2 C cooked millet
1 tbs lemon juice
S/P to taste
2 TBS balsamic vinegar
Directions
Sauté carrots through the garlic in 1/4C of vegetable broth and spices.
Add tomato paste, chopped tomatoes, beans, corn and millet.
Add lemon juice and remaining vegetable broth. Salt and pepper to taste.
Bring to a boil and let simmer for 30 minutes.
Splash in 2 TBS balsamic vinegar and stir well about 5 minutes before serving.
I topped this with a dairy-free sour cream and cilantro.
How did this recipe work out?
Posted by
Christian
on
Dec 29th, 2016
I make the same thing and add either a can of rotel ttomaoes or fresh pico de gallo (depending on what I have) and lime juice. Not as healthy- but adding a little garlic salt helps a lot too. I put this over a salad or eat it by itself and its delicious!
Leave a Reply