Hummus Stuffed Baked Jalapenos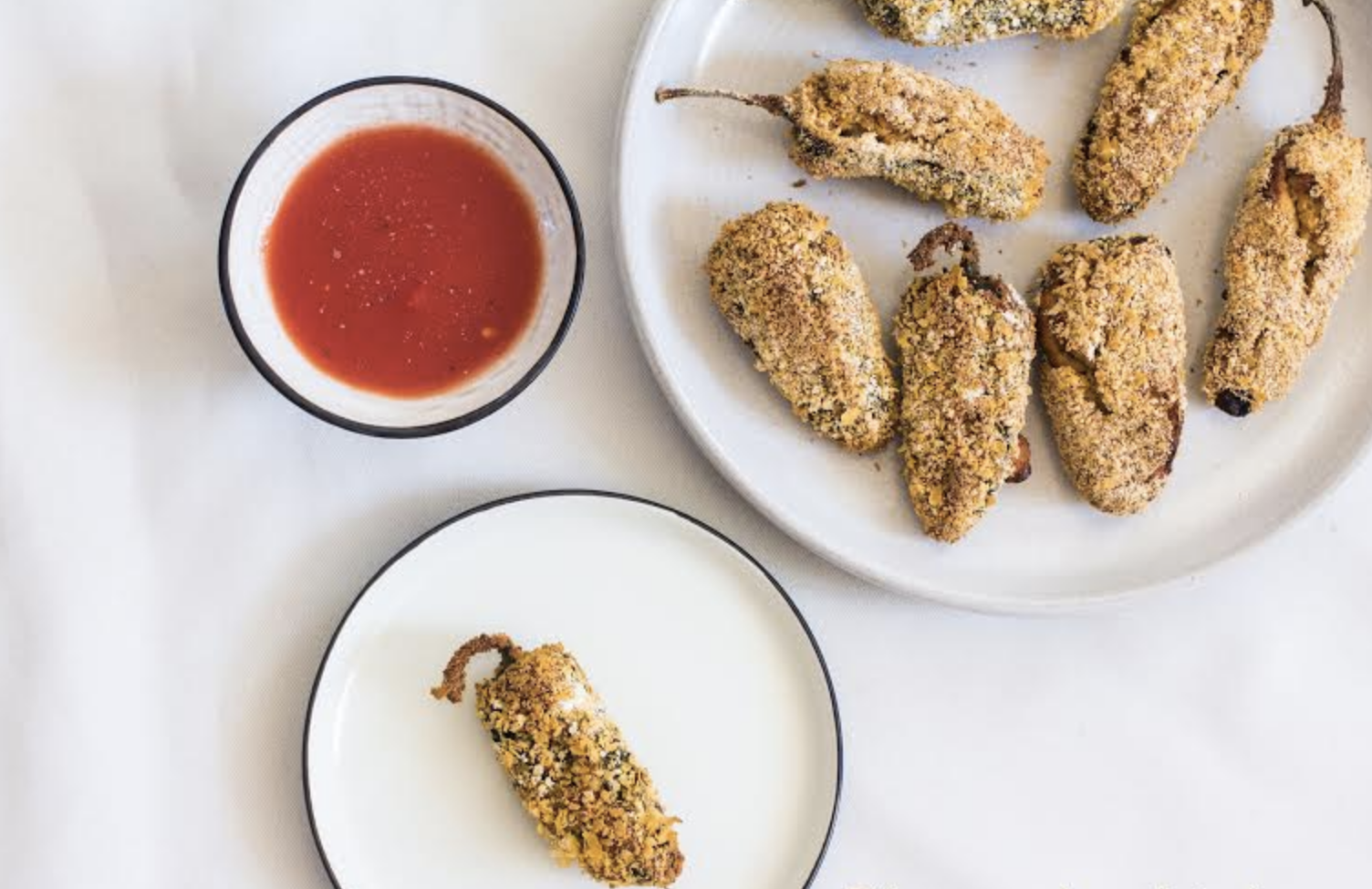 Here in the mid-west we tailgate HARD! This is the perfect one-hand food (one for brew) that you can make before the game starts. Re-heat over your little grill or eat just out of the fridge, either way, super delish and guilt free! Go team!
Ingredients
Setup
Hummus ingredients
3 cups cooked chickpeas (or 2 14oz cans, drained and rinsed)

juice of 1 lemon

2-3 garlic cloves

pinch of sea salt

1 tablespoon tahini paste (more for a creamier texture)

1/8 cup vegetable broth

Peppers and coating ingredients
15-20 jalapenos


1 cup of unsweetened almond milk

1 1/2 cup of flour of your choice

1 cup bread crumbs (panko or whole wheat)


1/4 cup nutritional yeast

1 tablespoon smoked paprika

1 teaspoon sea salt



Directions
To a blender or food processor, add all the hummus ingredients and whirl away until you reach a thick and creamy consistency. Set in fridge to chill while you prepare your chili peppers

Preheat oven to 350 degrees F.
Cut peppers in half (lengthwise) and remove seeds.
You'll need three shallow bowls.  One for the flour, one for the almond milk and in the third bowl, mix together the breadcrumbs, nutritional yeast, paprika and salt.

Scoop hummus into jalapenos and dip them into the almond milk. Roll jalapenos in the flour and dip into milk again.  Now, roll in breadcrumb mixture, sprinkle a little bit of the bread crumbs on top of the hummus and top with a shake of more paprika. Place on to a baking pan lined with parchment paper and bake for 35 minutes, or until they begin to brown. 
Makes 30-40 poppers.
NOTES:
Fill your jalapenos with any flavor hummus! Either make or purchase a few different flavors and mix it up. The seasoning can also be fun to play with. Swap out paprika for oregano and include a marinara dipping sauce for an Italian flair!
Peppers last 5-7 days in the refrigerator in a sealed container.
How did this recipe work out?
Leave a Reply