Lemony Tahini, Kale and Quinoa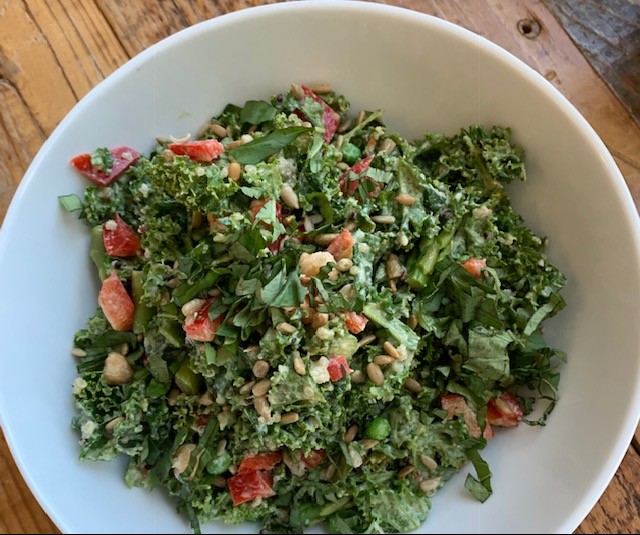 Keeping salad on its 'A' game, this bowl of greens leave all other salads in the dust! A mash up of asparagus, green peas, bell peppers, and quinoa lightly dressed in a creamy lemon herb dressing, this is salad reinvented. It's filling, it's a wellness warrior and most importantly it's darn delicious.
Ingredients
Setup
DRESSING
3 dates, pitted
Juice from one lemon
1/4 cup aquafaba (juice form the canned chickpeas)
2 cloves of garlic
2 heaping tablespoon tahini paste
1/2 bunch leaves of fresh basil
Salt and fresh ground black pepper
SALAD
1 cups water
1/2 cup quinoa
1 bunch of kale, washed, stemmed and cut info 1/4" fine ribbons
1 bunch asparagus, cut to roughly 1/4" pieces
1 cup frozen peas
1 orange or yellow bell pepper, finely chopped
3/4 cup cooked chickpeas
1/4 cup raw sunflower seeds + more for garnish
4-5 leaves of fresh basil, julienned for garnish
Directions
Combine the quinoa and water in a sauce pan and over high heat, bring to a boil and down to a simmer. Cover and allow to cook for 12-15 minutes. Fluff with a fork and set aside.

To a blender, add the dates, lemon juice and the aquafaba. Once smooth, add the garlic, tahini, basil and salt and pepper. Blend and adjust flavoring to taste. Roughly massage the dressing into the kale leaves and set aside.

Steam the asparagus for 10 minutes (or until just tender), add in the frozen peas for one minute until thawed and set aside and place into a bowl. Add the bell pepper, chickpeas and sunflower seeds. Gently fold the ingredients and add to the kale. Add the quinoa and fold again. Garnish with remaining sunflower seeds and basil Serve right away or chilled.

Serves 4-5


How did this recipe work out?
Leave a Reply