Mini Tofu Sundried Tomato and Basil Quiches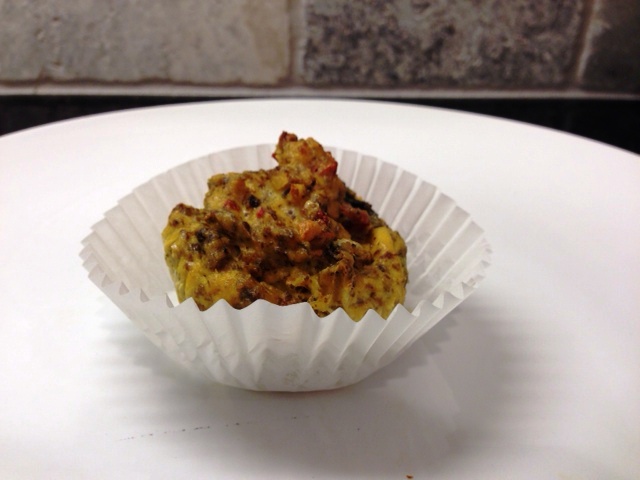 You know they say real men eat quiche, now we plant-based peeps can too.  Show these little darlings off at your next brunch and watch them disappear before your very eyes!  They are perfect for a gathering or make a couple of batches on a Sunday night and viola! you my dear, have a quick and hearty breakfast for a week that you can eat while driving to work. (That last part didn't come from me...)
Ingredients
Setup
Olive oil spritz
1 tsp garlic, minced
¾ C mushrooms, chopped fine
1/4 C sundried tomatoes, chopped fine
3 TBS fresh basil, chopped fine
1 package of firm silken tofu (light is optional)
1/4 C either soy, almond or coconut milk beverage, plain and unsweetened
1/8 C nutritional yeast
1/4 C raw cashews
Scant of onion powder, turmeric, dried oregano, salt and pepper
Directions
Preheat oven to 350°.  Spray a regular sized muffin tin with non-stick spray or use muffin liners.  Spray a non-stick skillet over medium-high heat and begin to sauté the garlic and mushrooms.  After about 3-4 minutes the mushrooms will begin to wilt, then add the sundried tomatoes, just to soften them up a bit.  Continue to cook for another 2-3 minutes.  Add in the basil, toss to coat all ingredients and remove from heat. 
In a high speed blender, add the tofu through the spices and blend until smooth.  Pour the mixture into the skillet with the vegetables and gently mix thoroughly.  Using a small ladle, scoop the mixture into each muffin cup liner about ½ of the way up.  Bake the quiches for 20 minutes or until a toothpick comes out clean.  Allow to cool for about five minutes before releasing from pan. 
After cooling completely, these will keep for five days in a sealed container, refrigerated.
Video
How did this recipe work out?
Leave a Reply