Quinoa Lentil Salad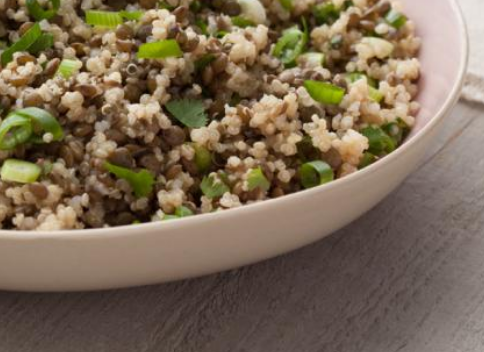 We're 6 weeks into this quarantine and this is a bit of a kitchen-sink salad. It's easy, tasty and will last a few days in the fridge. It also will make a great lunch when you go back to the office/classroom as when it is chilled the flavors marry a little more, really making a very nice and filling meal!
Ingredients
Setup
1/2 cup tri-colored quinoa (any type works), rinsed
1/2 cup green lentils, picked over and rinsed well
1/2 shallot, minced
juice from a 14 oz can of diced tomatoes (about 1/4 cup)
enough water to equal the liquid in the post to equal 2 cups
1 teaspoon dried thyme
2 large leaves of dark green lettuce, such as kale, collards, or chard. Roughly chopped.
2 tablespoons shelled pumpkin seeds (raw or roasted)
Salt and freshly ground black pepper as needed
Directions
Soak your lentils for about 15 minutes.
Add the quinoa and lentils with the shallot, tomato juice and water to a sauce pan with a fitted lid. Bring to a boil and down to a simmer, cover and cook for 15 minutes. Check for lentil doneness, you do NOT want al dente lentils, this will tear your stomach up! They should not be mushy and when you bite into them, they should give, just a little bit.
If the ingredients are cooked, and there is still a little liquid, simply take off the lid and allow the liquid to evaporate.
Add the tomatoes, thyme, leafy greens, and seeds. Stir and taste. Add salt+pepper as needed and allow greens to cook down.
Serve hot/room temp/chilled.
Store in the fridge in a sealed container for 3 days.
Serves 2-3

How did this recipe work out?
Leave a Reply