Raw Mediterranan Pesto Pasta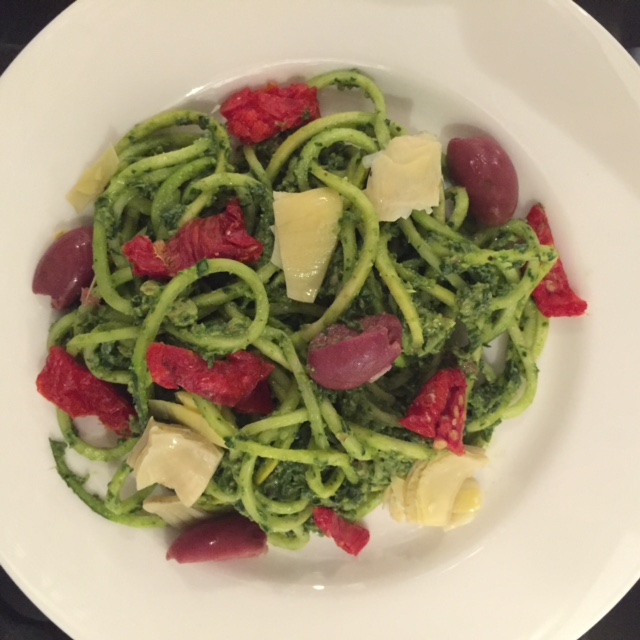 We are wrapping up summer, but it's still hot outside! Step away from the oven and let's whip up a raw (and super tasty!) pasta dish you can take to your Labor Day festivities. With the big bold Mediterranean flavors, this updated pasta dish will win everyone over without weighing them down.
Ingredients
Setup
3 cups of baby spinach, washed
1 avocado, de-pitted and flesh scooped out
2/3 cup walnuts
1-2 garlic cloves (your preference)
1/4 cup nutritional yeast
juice of 1/2 lemon
handful of fresh basil
sea salt to taste (optional)
2 zucchini squash
2 yellow squash
1/4 cup kalamata olives, sliced in half
1/4 cup sun-dried tomatoes, oil-free and reconstituted in water, chopped
1/4 cup artichoke hearts, chopped
Directions
To a food processor, add the spinach, avocado, walnuts, garlic, nutritional yeast, lemon and basil. Pulse until it is nearly creamy, keeping a little texture intact. Taste and add salt if you prefer, however, remember that you'll be adding in olives and artichokes that will contribute to a salty taste. Transfer to a bowl and set aside.
Using a spiralizer, create your noodles from your squash. Here is a video if you don't have a spiralizer. Set noodles aside in a large bowl. Gently fold in the pesto. Once it is well mixed, top with the olives, sun-dried tomatoes and artichoke hearts and serve.
Video
How did this recipe work out?
Leave a Reply